Pioneers of micro waterjet cutting
At Finepart we put pride in pushing the boundaries of what is even possible. We are scientists, engineers, designers, builders and visionaries who believe in simple solutions for advanced challenges.
This is an incredibly exciting time for waterjet technology. As much as we like to be modest, we see ourselves as pioneers in micro abrasive waterjet technology, being the first ones widely exhibiting and marketing a commercially available micro abrasive waterjet machining center.
We pride ourselves in taking on challenging projects where no-one else could. With knowledge, experience and courage we successfully expanded the realm of possible waterjet applications. We created a state-of-the-art micro waterjet machine for drilling, cutting, milling and turning, that far exceeds any other cutting technologies. Versatility, high flexibility, and capability is combined with simplicity in maintenance and setup making precision easier. We got to a point where we could confidently declare:
"We solve all your challenges accurately for virtually all materials and tasks"
About Finepart
Finepart is a public innovative and technology-oriented company that develops and sells machines for component manufacturing with high precision. The company's technology is based on micro waterjet cutting technology, utilizing high-pressure water to create a jet that accelerates sand grains (abrasives) and remove material by particle erosion. The company was founded in 2012 and its head office is in Bollebygd, Sweden.
Careers
Explore the exciting career opportunities in a highly innovative company and global leader in micro waterjet technology.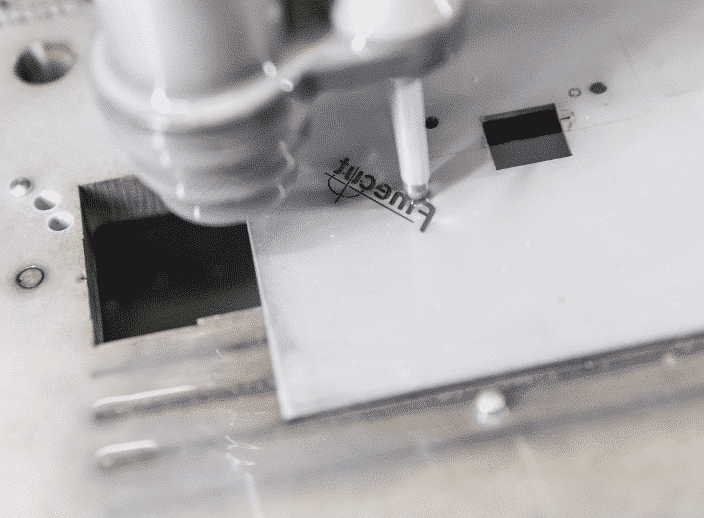 But how?
Well, it's not just about the highly-precise micro waterjet cutting beam – this is a machine that is built in a brand-new way compared to traditional waterjet cutting machines. The state-of-the-art component's combined capacity produces impressive results, that often surpass our own expectations. This enables good movement, speed and positioning with excellent accuracy. Where everything is miniaturized – and the applications are unlimited.
In other words, we brought the benefits of waterjet technology to the world of fine mechanics. Now, we ask you to challenge us with whatever material you need to cut.
You are more than welcome to challenge us today.
Speak With A Waterjet Specialist
Our story – Beyond cutting edge
A strong dedication to technology
Finepart is the result of a strong belief in technology, pure instinct and years of determination. This story begins in 1990 when Christian, after finishing his M.Sc. in manufacturing engineering, took employment as a post-graduate at Chalmers University of Technology in Gothenburg to research waterjet technology. As for many young men the waterjet technology appealed to interest through its physics involving high power, extreme levels of pressure, super-sonic speed, anything beyond the normal. Exploring this was thrilling. With a professor that generously encouraged playing around with the machines to inspire learning the fundamentals by one's own drive, evenings in the workshop became a source of understanding and growing ideas around manufacturing processes.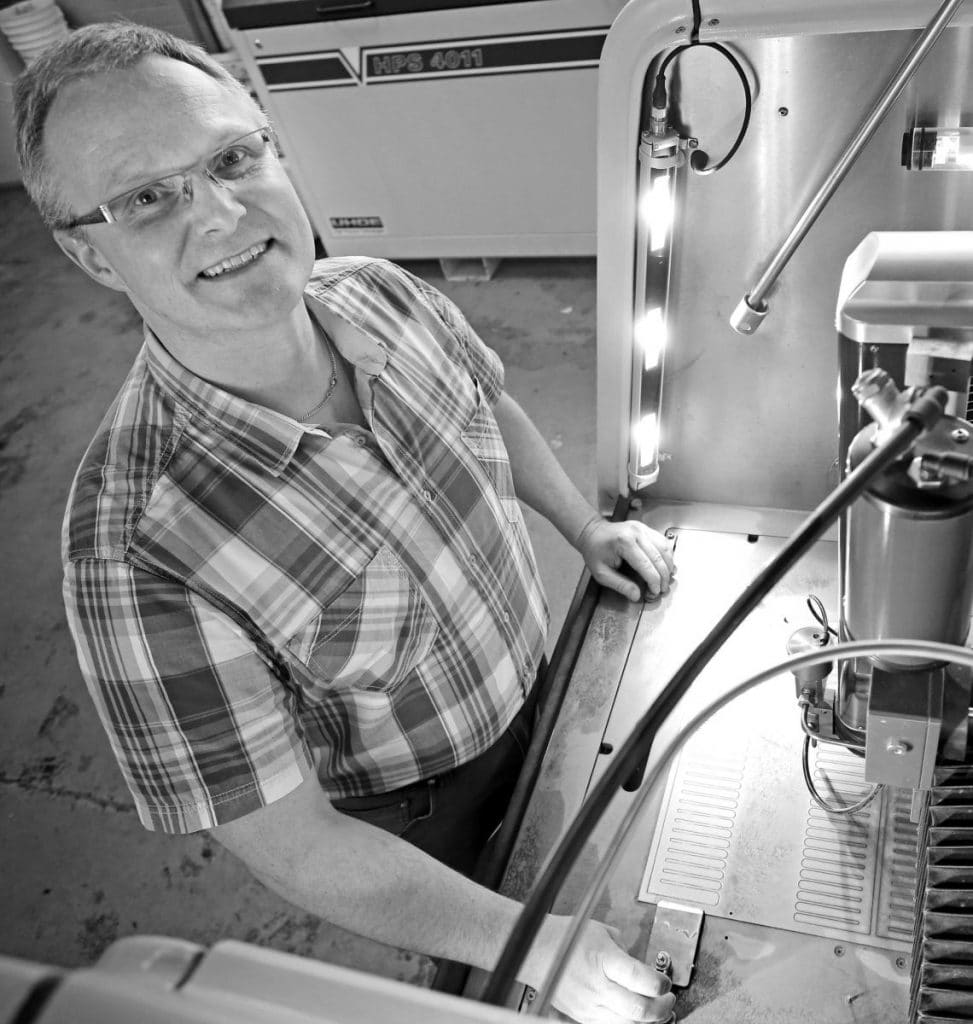 Building a waterjet machine to explore the potential
As waterjets was a new topic at the university and funds were not in abundance, Christian came to early practice machine tool design, as he had to start designing a waterjet machine suitable for his research. The main thesis project was focused on abrasive waterjet milling, a quite demanding application in terms of machine performance. To explore the applicational opportunities this machine had three axis motion and in addition a fourth axis to enable turning and other complex machining. Sitting in a lab environment, proper encapsulation was a necessity.
Christian was not so into in the academic environment but more interested in the technology and his focus was on how it could be of more industrial use. Spreading the word to local industry on the manufacturing benefits of waterjet soon became a mission. As part of this interest, Christian initiated a trade association in the mid 90's. This became a meeting point for Scandinavian waterjet industry coming together to finance projects to the benefits for its users. Projects involved cut quality standard, waste handling, process comparison, etc. The experience working with pioneering companies in this field nurtured new entrepreneurial ideas.
A new business scope
Out of curiosity Christian entered a business idea contest, Venture Cup, to explore some ideas sprung out of his experience. Being awarded an honorary prize on proved customer value in the business idea competition, became a tipping point to start the entrepreneurial venture. So, a business was started.
Starting in his garage workshop, Christian began to design and build to validate his ideas. But, how to approach the market? Mr. Jan Ryd was a successful Swedish entrepreneur with whom Christian had a successful cooperation in several projects during the university years. Mr. Ryd liked the idea and together they started Finecut AB. To further strengthen the team a mutual contact, Mr. Don Miller was invited. Don is a very experienced fluid dynamics researcher and from pioneering work he is generally recognized as the father of micro abrasive waterjets. Together, they developed and designed the miniaturized Finecut micro abrasive waterjet cutting system. This system could produce robust abrasive waterjets down to 0.2 mm in diameter. These were named FAW – Fine Abrasive Waterjet.
Creating the Finecut machine tool
To fully exploit the potential of the miniaturized cutting system to cut fine mechanic parts a very precise machine tool was required. A strong idea in the creation of the Finecut machine tool was to design the machine around the human user experience. The main challenge was to form a highly efficient and accurate, multi-capable waterjet machine tool that, no matter what technology inside, was also pleasing to the eye, easy to operate and enjoyable to work with.
A modern and appealing design would communicate high-tech inside. A simple and intuitive human-machine-interface styled like a typical commercial tablet computer interface should make anyone easily familiarize with the control of the machine. For inspiration, Christian bought the iPhone just to explore the ideas and implementation of the user-friendly interface.
For the small Finecut team expanding the competence by networking has been important for success. Most of the companies involved in the first machine are still producing modular parts for the machine and contribute to the continuous development. To mention some key partners Uhde High Pressure Technology and Fanuc Factory Automation has provided excellent support and made important contributions.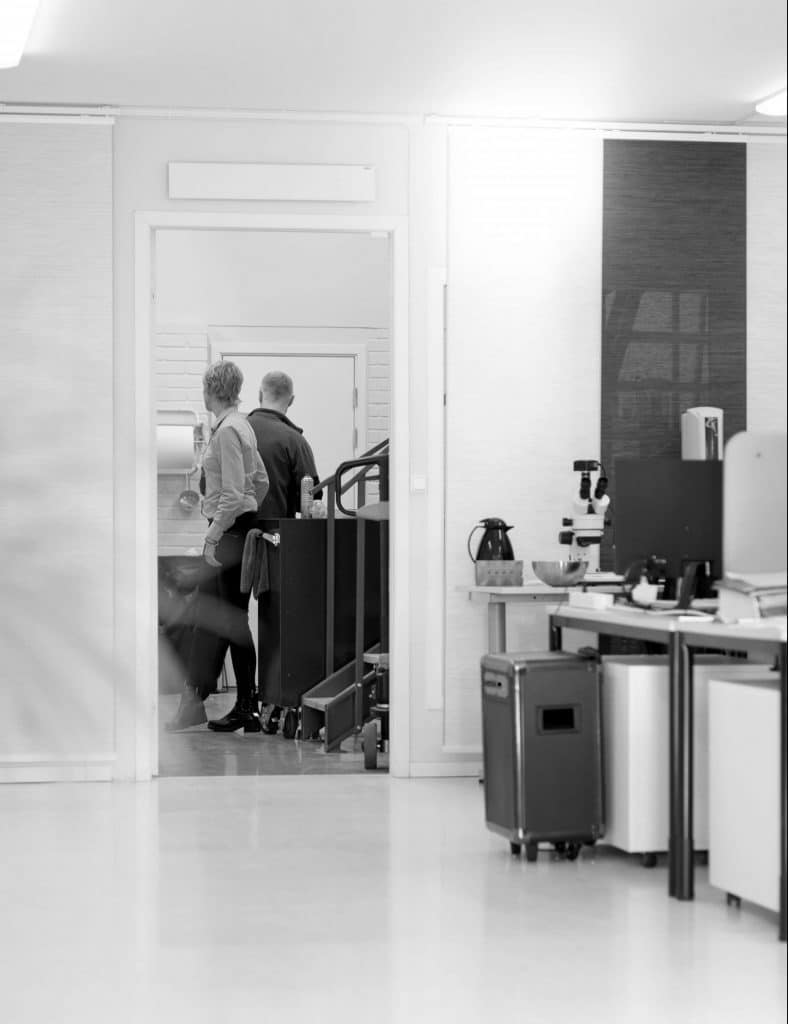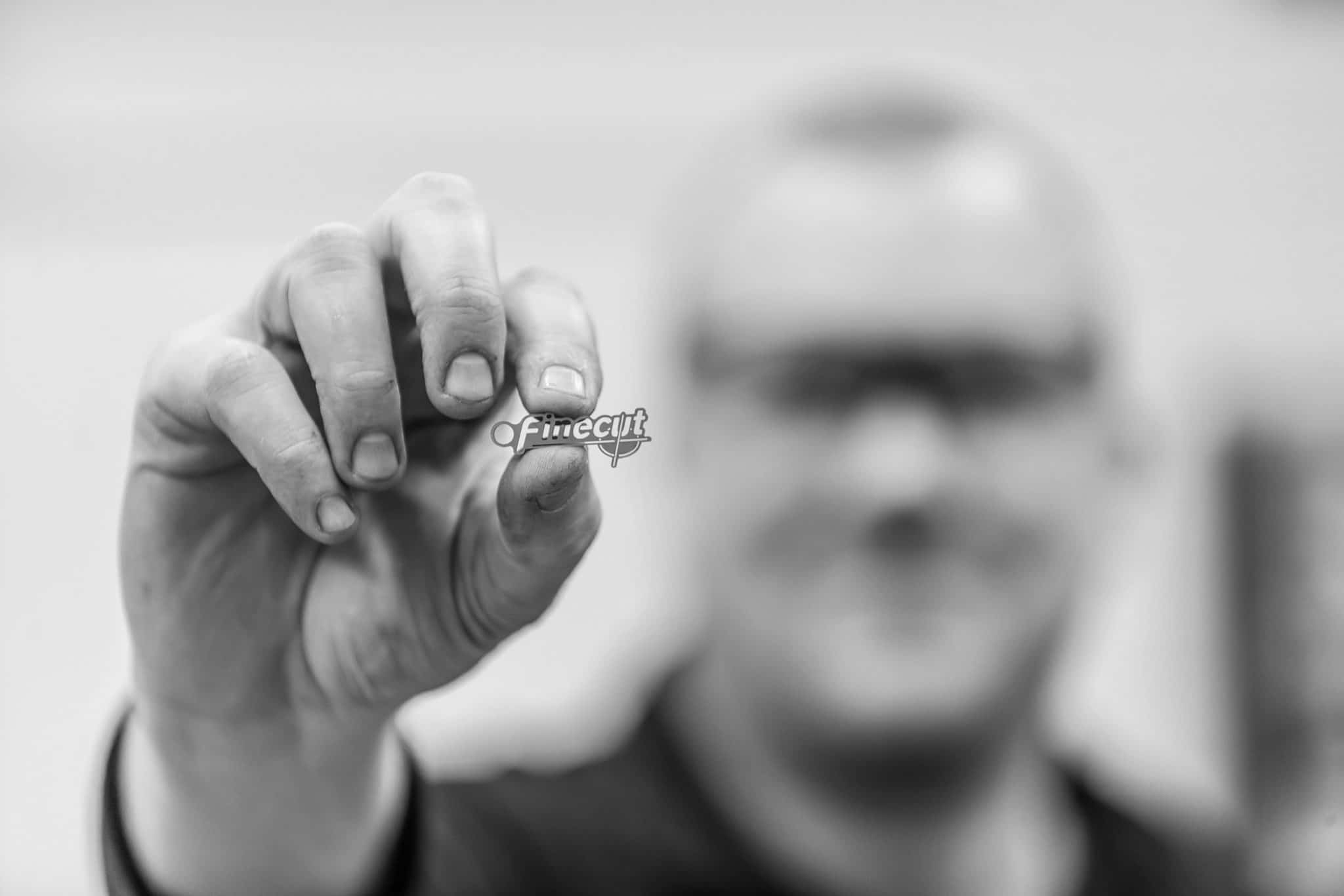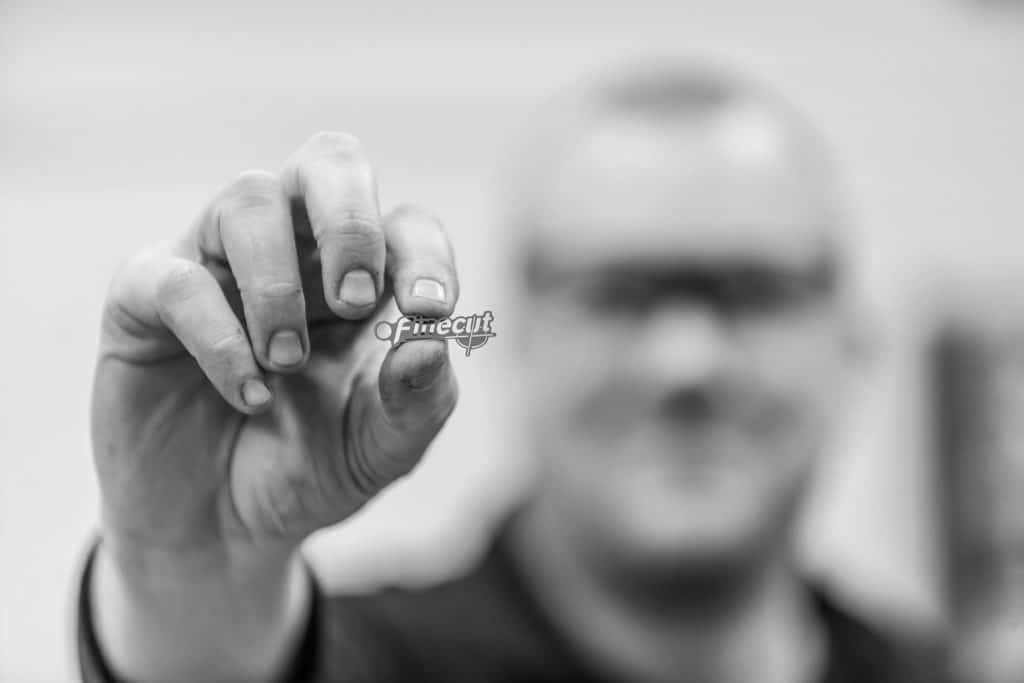 The launch
In 2009, the machine was presented to the world at the Technical Fair in Stockholm, and shortly afterwards it was also launched at BlechExpo in Stuttgart. Not only visitors but also competitors generously praised the looks, the compact design and the technical achievements. The company was now pioneering a new business scope, being the first player commercially marketing a micro abrasive waterjet machine. Finecut now widely introduced the possibility for other businesses to exploit the benefits of waterjet cutting in fine mechanics applications with a machine being 10 times more accurate than traditional waterjet cutting machines.
Expansion
Having a great product with opportunities that no one knew about called for an international expansion with costly marketing efforts. Venture capital from government agencies and business angels, Finepart Sweden AB was formed in 2012 as a new platform to continue an international expansion. To further strengthen its expansion plans, the company made an initial public offering and joined Spotlight Stock market list in Stockholm, inviting investors to join us on our journey. Expanding the agent network and exhibitions could now accelerate.
The team
Over the years advanced technology and obvious commercial potential, along with a unique team spirit, has attracted new members having competence far beyond what a small rural company could dream of. The success of bringing Finepart to the market lies within the sincere dedication and resilience of our core team of hard working and highly motivated individuals. We work closely with our international agents joining our teams as true ambassadors. With the recent recruitment of a professionally skilled external CEO, fresh ideas add in and energize the company. We are now prepared to take the step to the next level of wider market awareness and growth to offer our customers what we believe to be probably the best waterjet machine in the world.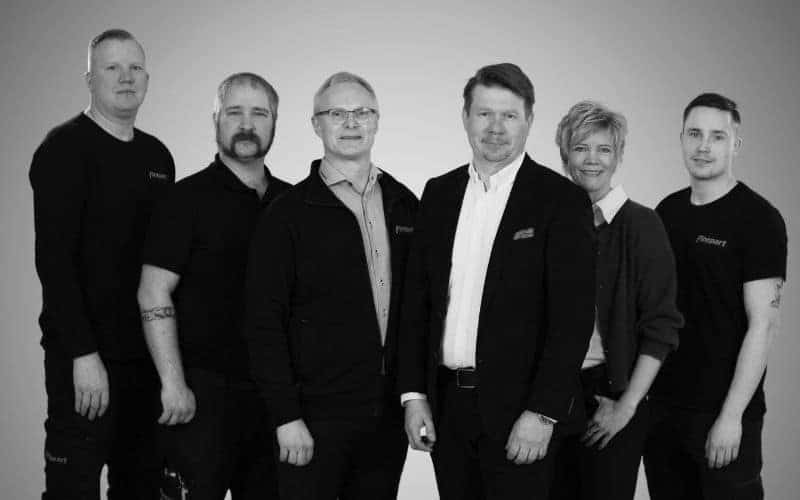 Customer stories
Peter Boneham
Boneham & Turner
,
We conducted trials, prior to purchase, with some exceptional results. One part that was taking us 1,5 hrs, takes us just 8 min. to produce on a Finecut machine. It's a game changer.
Jan-Åke Wiman
University of Gothenburg
,
The Finecut equipment has proven to produce narrow cuts with extreme precision.
Fredrik Claesson
Gaston Components AB
,
The Finecut process is great when it comes to high precision, advanced material, and non-thermal effect.
Magnus Abelsson
Elitkomposit AB
,
The Finecut machine has for several years demonstrated its unique precision when it comes to process carbon fiber, which is our area of expertise.
Rikard Bergsten
Tre Ess Innovation AB
,
For me, as an inventor, it is important to get parts with high precision and, in some cases, advanced materials to verify my prototypes / products.
Mattias Håkansson
LBY Tech AB
,
The Finecut is a great compliment to our existing W-EDM and widen our offering scope.
Börje Andermård
Brogren Industries AB
,
The Finecut equipment gave us advantages of minimal impact on material properties and a very high precision.
Laurant Ponsard
Hager Electro SAS
,
The Finecut system from Finepart has for the past 10 years supported us producing quick prototypes for our NPI process