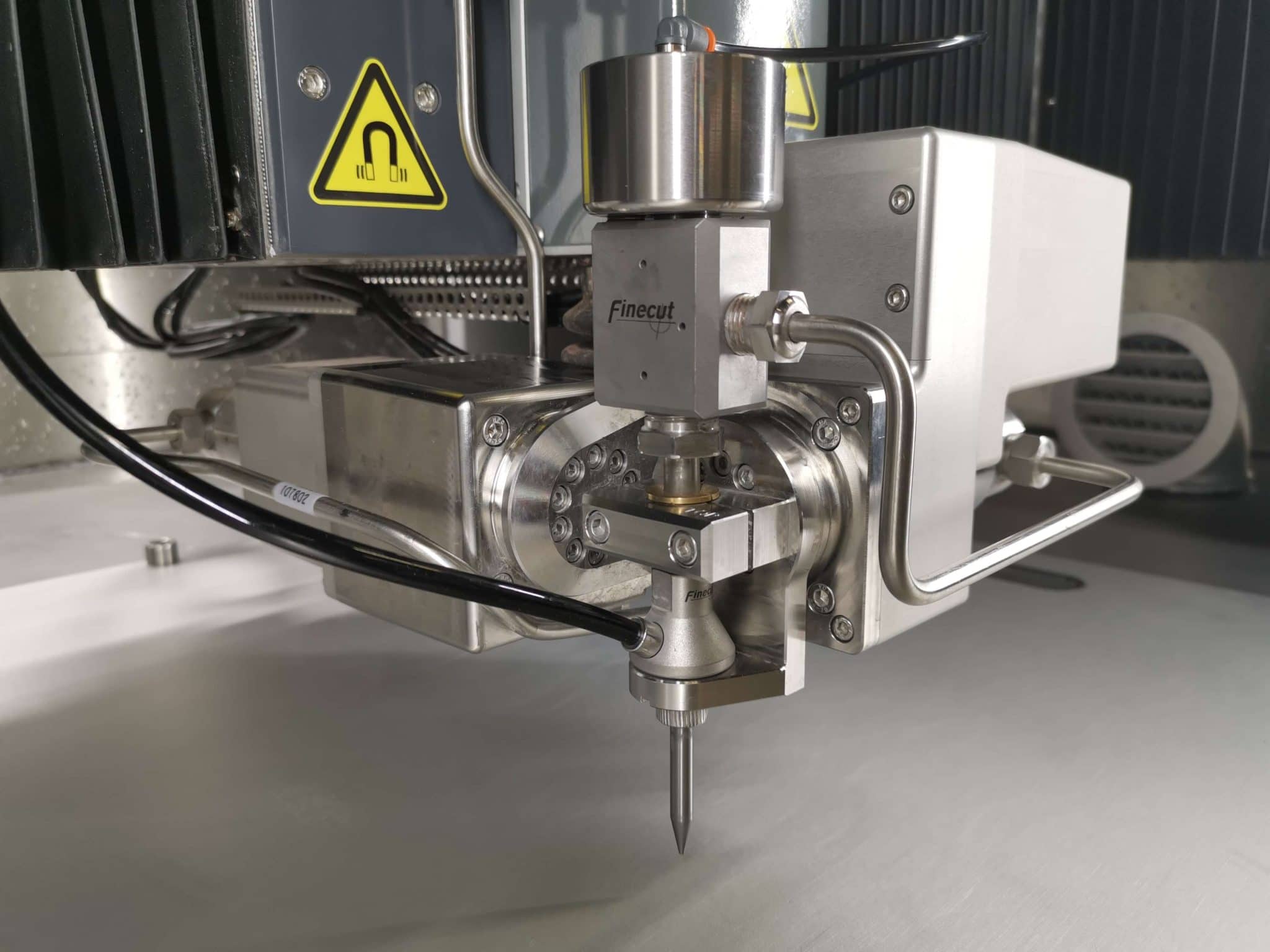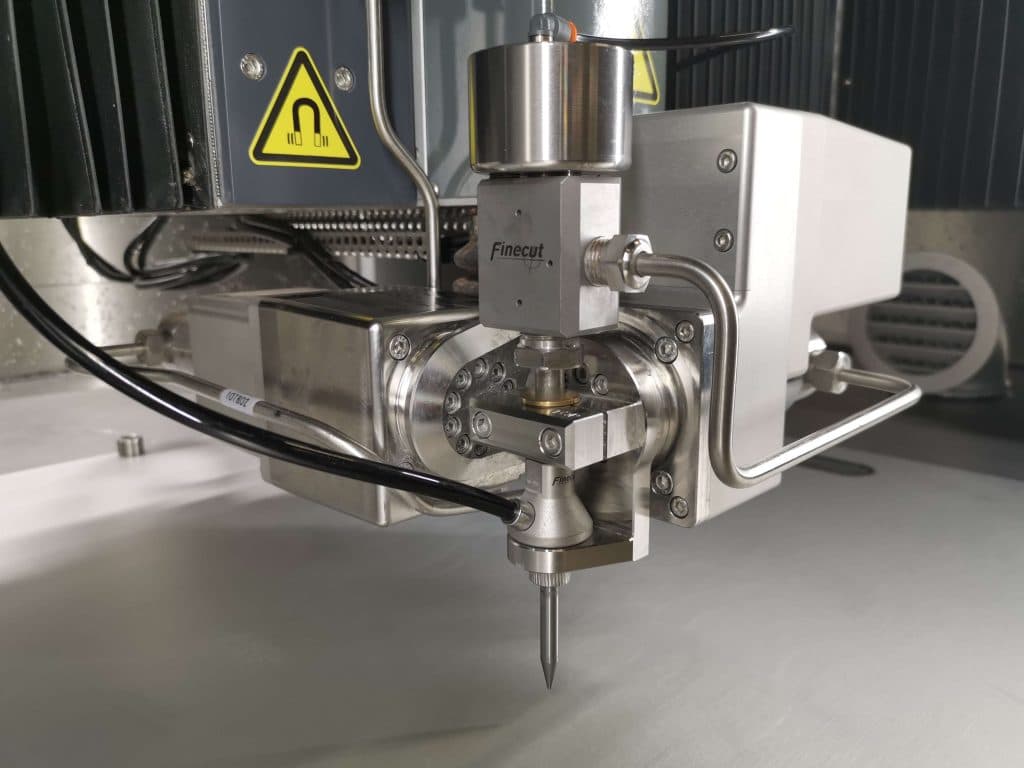 FINECUT WMC500II 5 AXIS waterjet. TYPE ABX
5-Axis Waterjet Cutting Machining Center, ABX
Finecut 5-axis waterjet cutting machine is a premium micro abrasive waterjet, for fast cutting without taper.
Ideal for volume manufacturing purposes
Ideal for cutting complex shapes
Cutting width down to 0.2 mm
5-axis cutting with tool center point control
Corner optimization by waterjet motion strategy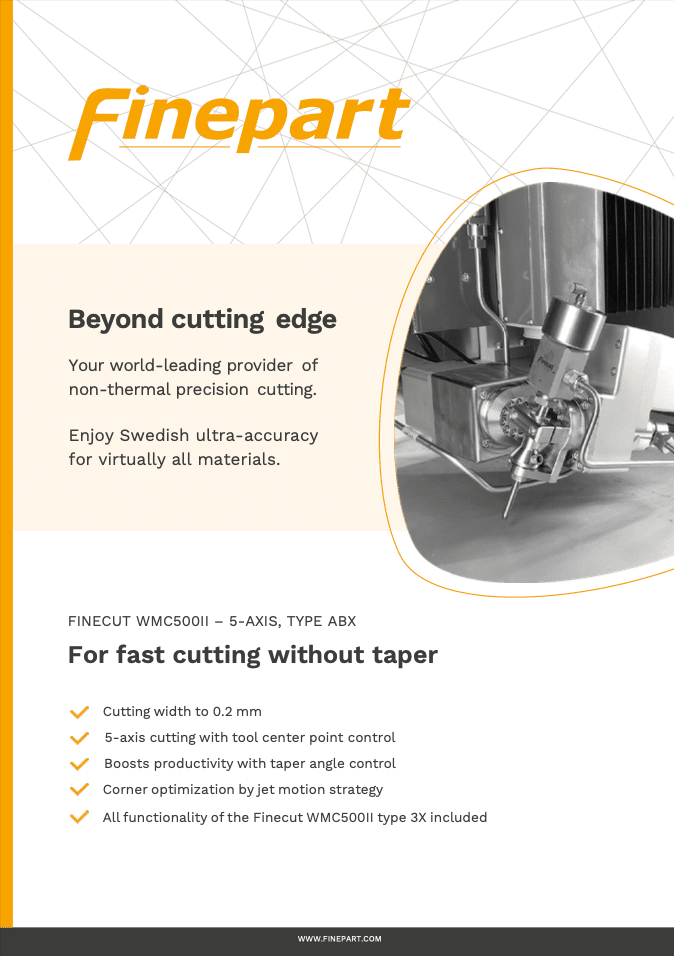 Finecut WMC500II 5X type ABX
Beyond Cutting Edge
Please add your contact details
We will email you the datasheet shortly
The Advantages & Capabilities of Finecut 5-Axis Waterjet Cutting
Compared to traditional cutting methods, the 5 axis waterjet technology has the cutting edge capabilities of combining increased cutting speed, ultra high precision, and three dimensional cutting, with taper elimination, into ONE cutting edge waterjet machine, the Finecut WMC500II
Ideal for volume manufacturing purposes
Cutting twice as fast, compared to 3 axis cutting
Ideal for applications that requires complex cutting
3D abrasive cutting capabilities
Ultimate taper control and taper elimination
Able to cut materials both soft and hard materials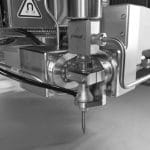 Fast & Precise Cutting Of 3D Shapes With Taper Elimination
With the Finecut WMC500II 5 axis waterjet type ABX configuration the Finecut waterjet machines are ideal for
Cutting 3D geometries with straight or slanted edges
Cutting angles up to 15 degrees
Compensate for wall taper
This model enjoys the very high precision of the 3 axis Finecut machines with added capability to tilt the waterjet.
Beside its capability of cutting in oblique angles, the 5-axis waterjet control can also be used to compensate for the wall taper in the cut that typically results when running the cutting process at higher speeds. The jet angle adjustment can also avoid jet kick-back at lower part of inner corners.
The Finecut WMC500II Type ABX waterjet, is a time saver and brings you potential to significantly increase in productivity which quickly returns its cost.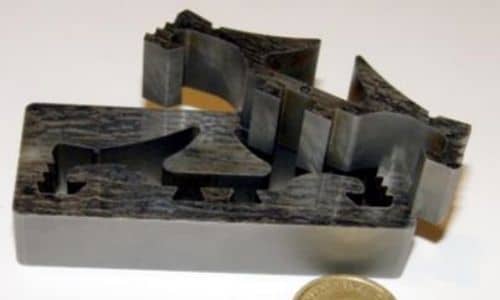 Finecut WMC500II – type ABX
5 Axis Waterjet Cutting Technology With Tilting Cutting Head
Finecut WMC500II enables a combination of the full versatility of filling the 500×500 mm work envelope with parts, with the benefits of being able to tilt the jet in any direction while cutting.
The ABX 5-axis configuration has its A axis and B axis attached to the Z axis to enable it to tilt the nozzle assembly. The A axis and B-axis movement work synchronously and enables a full 5-axis control with tool center point (TCP) functionality. This means that motions are programmed around the tip of the focusing tube.
Finecut 5 Axis Waterjet Machining Center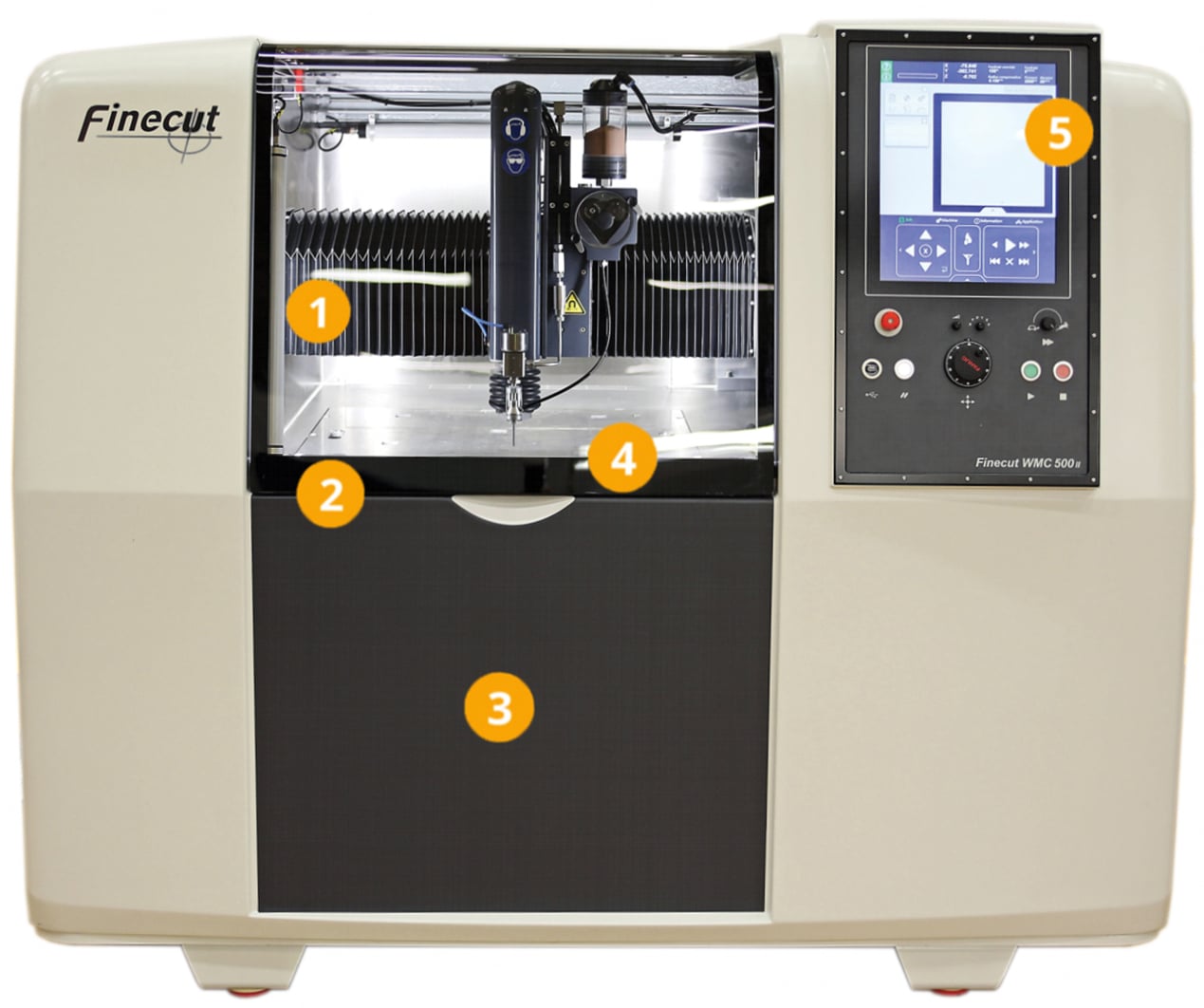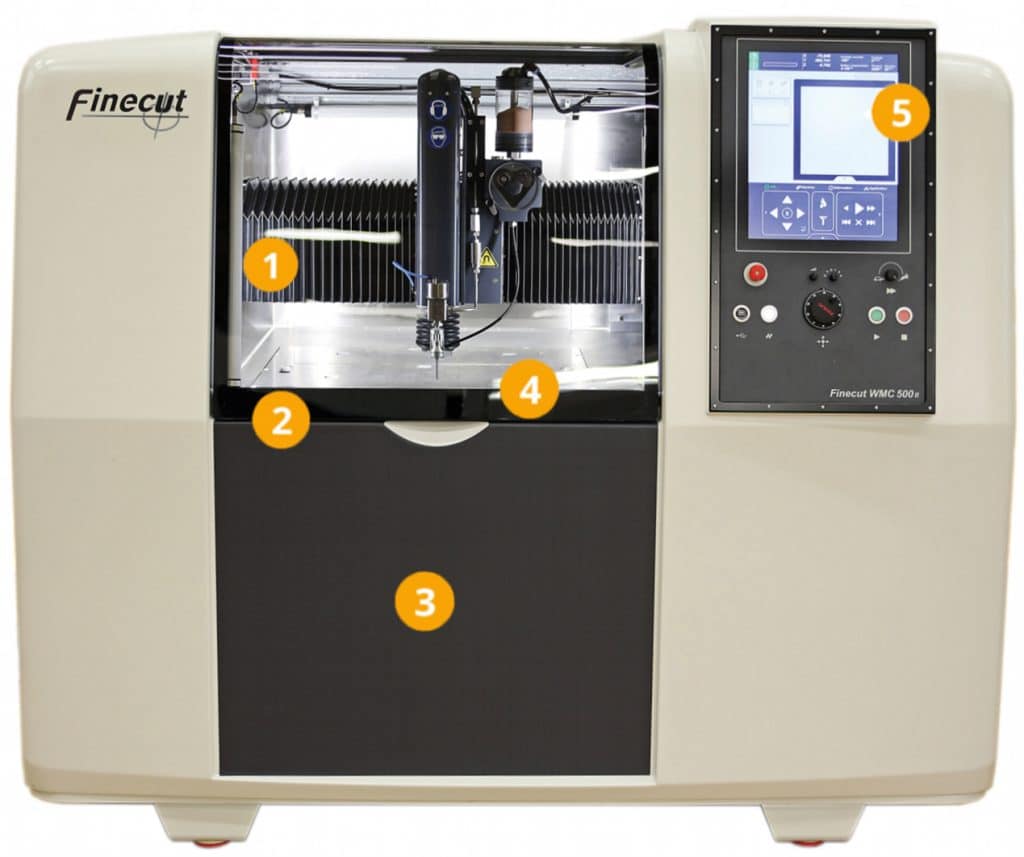 The Finecut 500II type ABX waterjet machining center features a ultra precise motion capability that accurately reproduces the programmed geometry. The Finecut machine has been designed to optimise the part precision to a level much higher than traditional cutting methods.
Dynamic, high accuracy motion system with linear motors, ultra-high resolution, and thermally stable positional feedback
Water jet cutting table mechanically attached to the motion equipment for ultimate accuracy.
Rigidly built machine tool frame
Easy set-up of machine fixtures and optional live fixturing with synchronous motion.
CNC waterjet control software and simple operators panel developed especially for abrasive water jet cutting.
Technical information
FINECUT WMC500II type ABX, Waterjet cutting system
Fanuc 31i-B5 and ALPHA Servo Drive with Nano Control
Linear motors and zero backlash reduction gears for precise motion
Thermically stable Invar® linear encoders, 50 nm resolution
Motion Axis
Linear servo motor drive on X axis and Y axis motion
Precision ball screw servo drive on Z axis
Positioning accuracy*: ± 2,5 µm
Repeatability*: ± 2 µm
Typical cutting tolerance ± 10 µm
According to ISO 230-2
Cutting Speed
Max cutting speed: 20 m/min
Max traverse speed: 40 m/min
Acceleration: 0.5g (X axis, Y axis)
Cutting System Option
Fine Abrasive Waterjet: 0.2 mm, 0.3 mm.
Abrasive Waterjet: 0.4 mm, 0.5 mm
Work Area
Cutting envelope (X, Y, Z axis): 500 mm x 500 mm x 80 mm
Fixturing area: 700 mm x 700 mm (max depth 700 mm)
Machine table size: 900 mm x 900 mm (W x D)
Back door allows for inserting work pieces
Extra features for ABX
Work envelope 500 x 500 mm for three axes cutting
Work envelope 500 x 500 mm with taper angle control capability
±15º tilting capability on A-axis and B-axis
Selection to run in 3X + 2X rotation axis mode or using Tool Center Point (TCP) programming
Possibility to set up safe zones to prevent tilting jet from damaging fixtures.
Speak With A Waterjet Specialist
Three Types of Waterjet Cutting Systems
The waterjet cutting can be made with any of Finecut micro waterjet systems, which are available in 3 different categories.
Fine and micro abrasive water cutting
Conventional abrasive water cutting
Pure water cutting
A range of sizes from 0.2 mm to 0.76 mm is available, whereas the larger jet facilitates a greater cutting power.



Innovative Fixturing Solutions
3D shapes can be cut using the additional servo axis, which moves the material being cut, synchronously with the cutting motion.
It even possible to make your own fixtures, using the machines palletized fixturing solutions. For repeat orders, this solution enables you to quickly set up and produce.
Advanced Waterjet Options
The Finecut WMC500II ABX waterjet system can be equipped with several options like:
Measuring probe
5-axis water jet cutting head
Turning axis
Drilling unit
Vision system
and more
We also develop new options that serves the customer's needs for efficient production. All options are retrofittable to existing machines.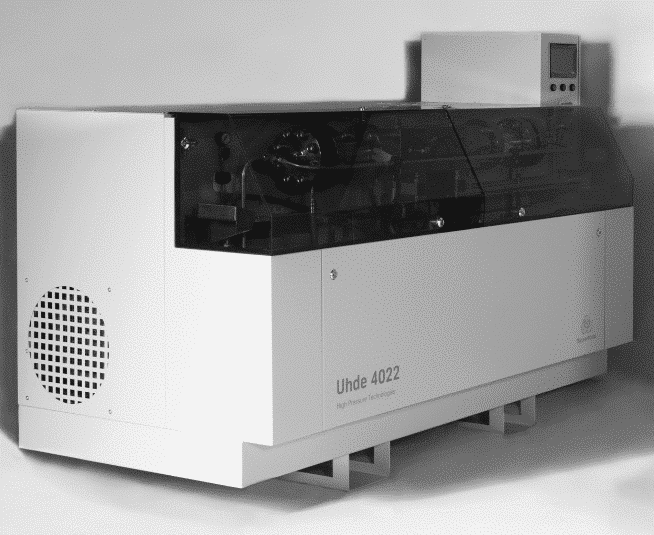 High Pressure Water Intensifier Pump
A 4.000 bar high pressure intensifier pump, supplies the Finecut waterjet systems with a smooth water pressure profile of pure water, and minimum pressure fluctuations.
Ultimate Precision For Any Waterjet Cutting Services Shop
With a compact footprint, the Finecut 5 axis waterjet cutting machine is both easy and convenient to place in any small or large workshop. The fully encapsulated design keeps water and grit inside the machine, which means it can operate alongside other CNC machines, in the workshop.
Via the CNC control panel on the Finecut waterjet, the operator controls the pressure setting of the intensifier pump. The intensifier pump supplies compressed water to the finecut waterjet, via hard tubing and can, for convenience be placed away from the waterjet in another room, and even on a different floor.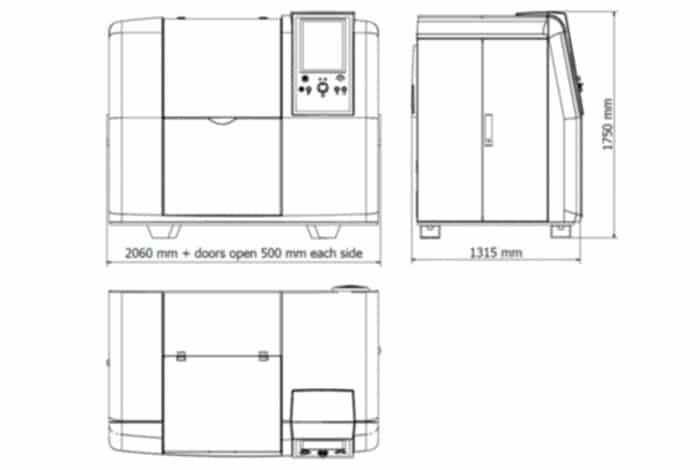 What To Find Out More About Finecut?
Higher Waterjet Cutting Speed Through Taper Elimination
Achieve Both Higher Quality And Higher Productivity
By adding 5 axis capability to adjust the approach angle of the jet stream, the taper in the cut can be compensated and speeds will not need to be reduced more than to meet an adequate surface quality.
The cutting speed of the Finecut can be increased by up to 50%, which means a significantly higher throughput, and higher return of investment.
CAM Software IGEMS 5x
Programming of 3D models are significantly more demanding than following 2D contours. However, the IGEMS 5X software makes this task easy. IGEMS 5X is available as an upgrade to the standard IGEMS CAD/CAM/AWJ software.
Make toolpaths from STEP or IGES files.
Analyses the geometry to optimise for waterjet cutting.
Automatic speed calculation depending on thickness and cutting parameters.
Automatic speed ramping depending on geometry.
Add bridges and tabs to fixate the part in the material.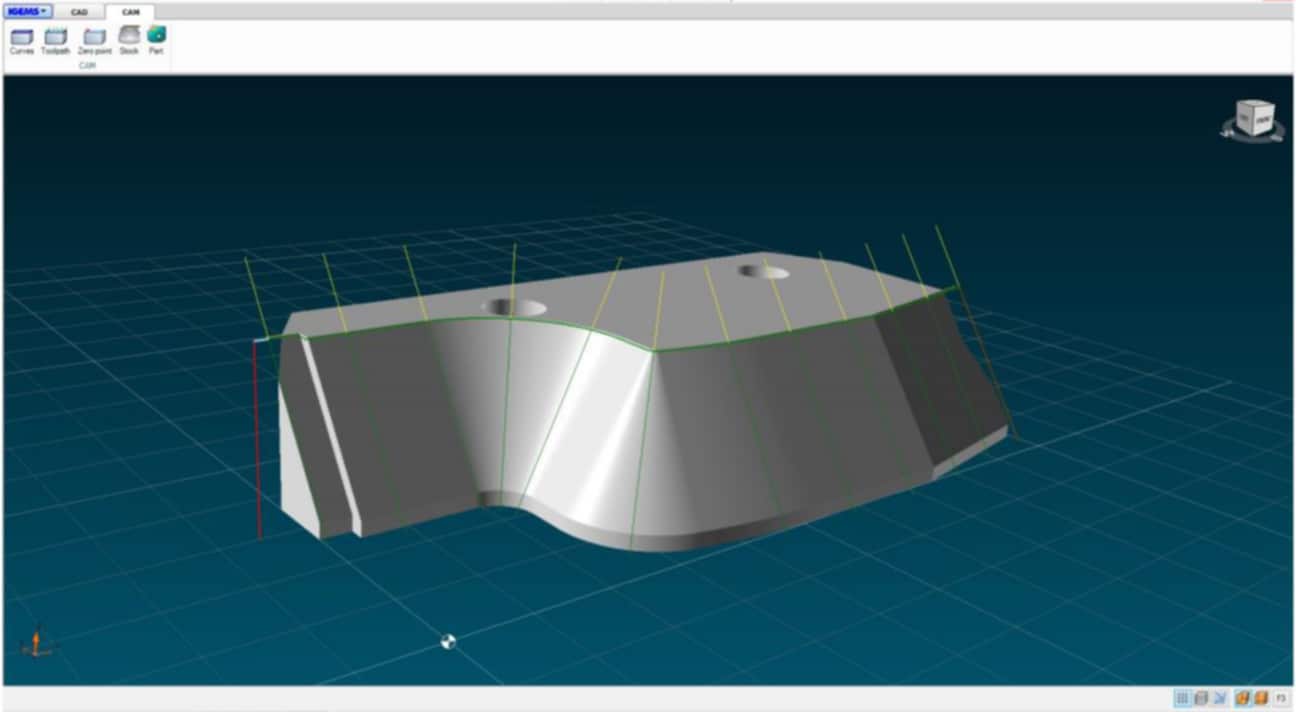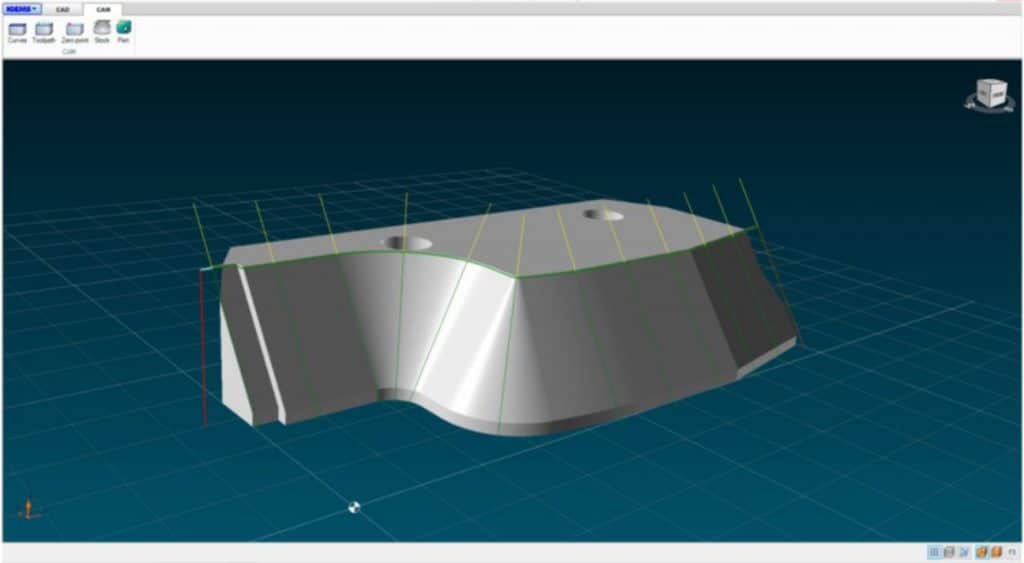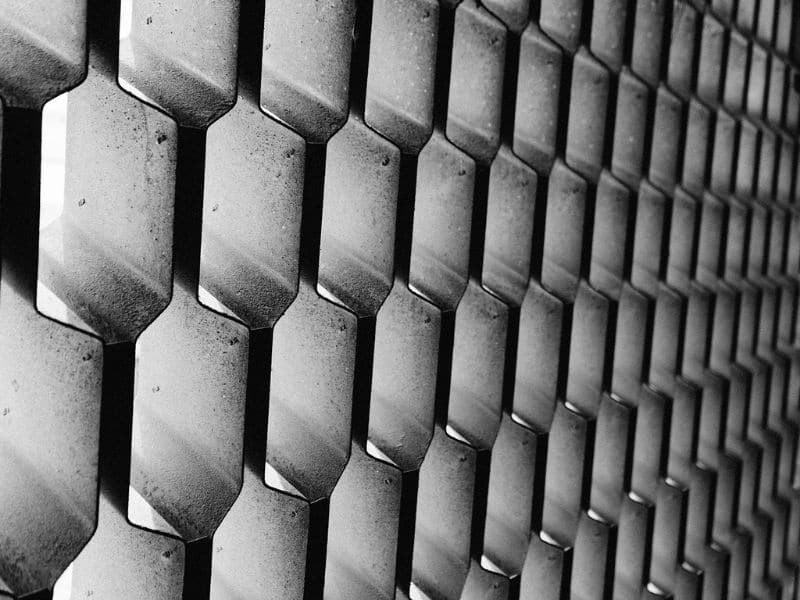 Materials That Can Be Cut With Finecut Waterjet System
The Finecut™ WMC 500II CNC waterjet cutting machine can cut virtually any material with a width down to 0.2 mm.
Always with Finecut
Flexible fixturing for any application
several solutions for different applications and requirements
State Of The Art Machine components
latest technology for high dynamic capacity and accuracy
Additional functions offer practical solutions
great assisting tech for improved automation, setup and handling
High-end support systems from reliable partners
high pressure waterjet cutting for enhanced precision and control
User-friendly panel with Finesoft software
easy to use interface for software & operators panel
Retrofittable developments
always gain from the latest technology and innovations