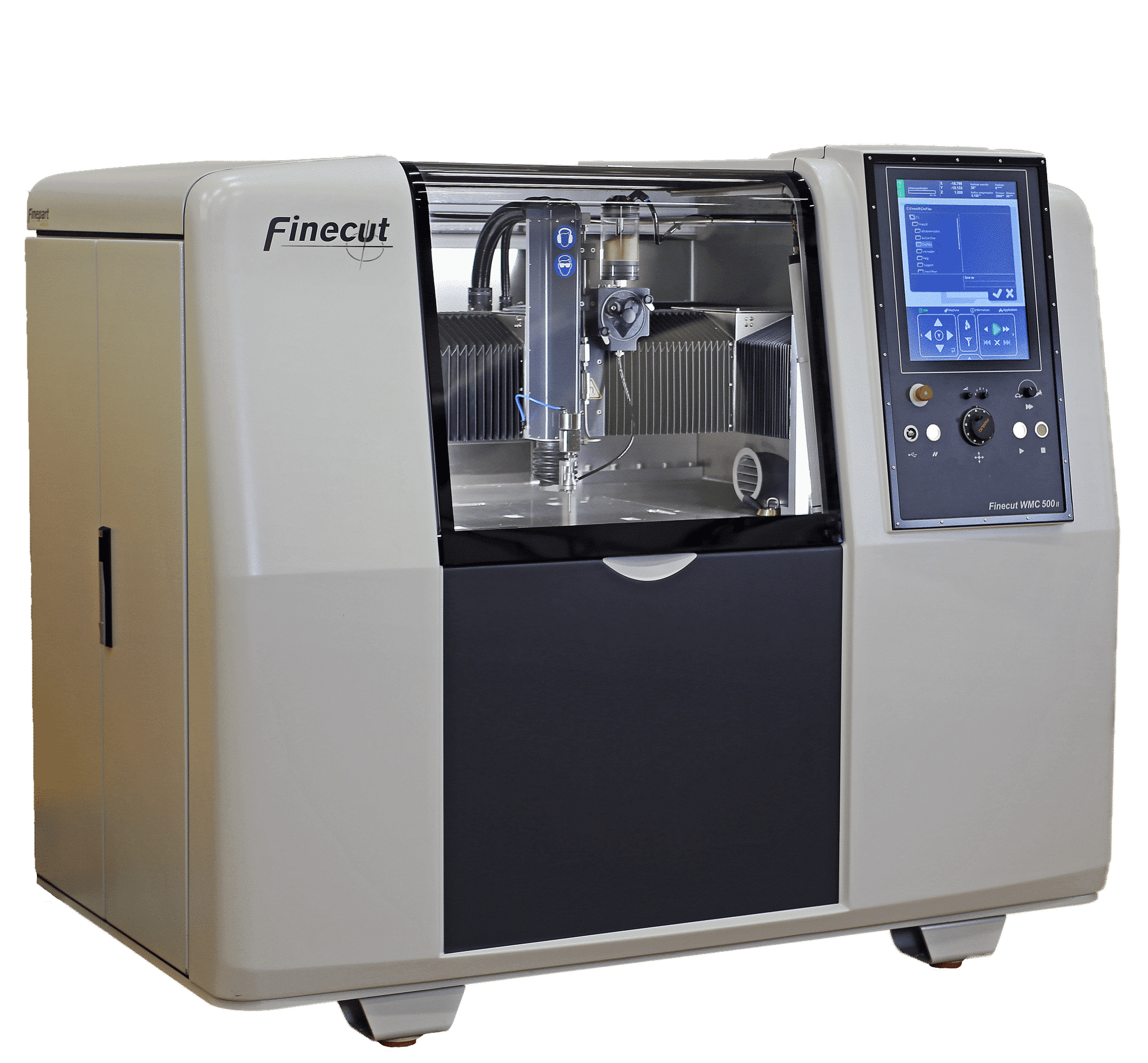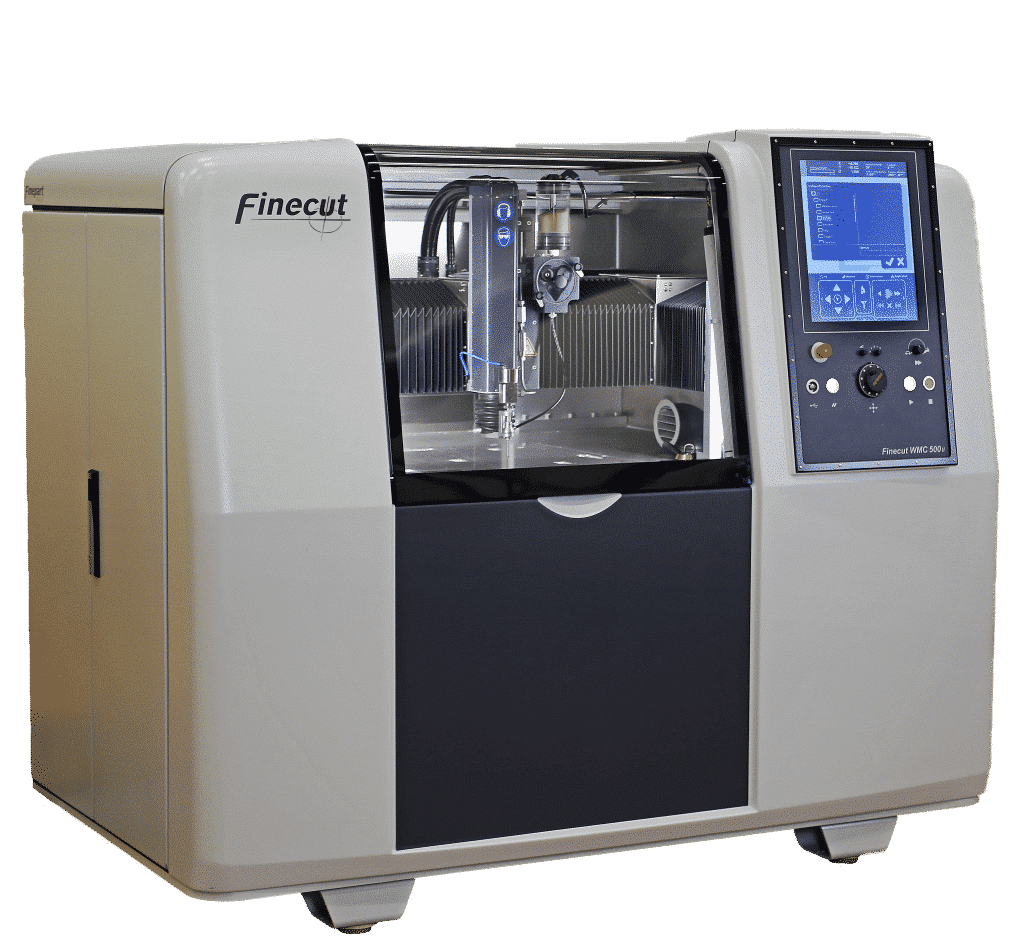 Manufacturer of Waterjet Machinery, Beyond Cutting Edge
Finecut Micro Abrasive Waterjet Machines
Probably the best micro abrasive waterjet Machines in the world.
Non-Thermal Waterjet Cutting Technology
Finepart is the manufacturer of new generation of non-thermal micro abrasive waterjet cutting machines, the world leading Finecut WMC500II, is built by state-of-the-art components to provide capability for your ultimate precision cutting.
The small footprint and encapsulated design make it suitable for any type of workshop environment alongside other CNC machines and sensitive equipment.
Overview Finecut Waterjet Technology
WHAT CAN YOU DO WITH
The Finecut Waterjet Technology
Increase Your Productivity, Cutting Speed, Precision, While Doing Complex Cutting.
3D & Complex Cutting
Higher Cutting Speed
Ultra-High Precision
No Second Finish Need
Eliminate Taper
Non-Thermal Cutting
The Finecut Waterjet machines can increase both your speed and precision, significantly reduce the need for a finishing process, and thereby boost your productivity.
We bring high pressure precision cutting beyond cutting edge, and enable you to cut virtually any material, at ultra-high precision, and cut 3D shapes, at higher cutting speed, and lower material cost.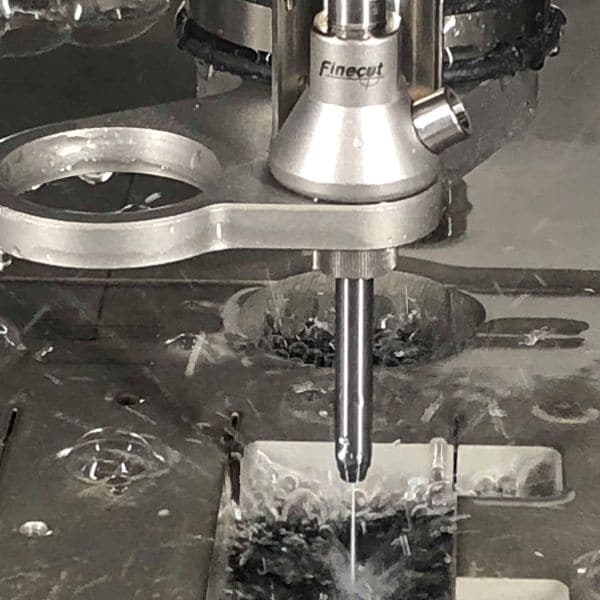 The Finecut Waterjet MachineS
Benefits & Capabilities
Cut with no thermal influence on the material, thereby a good complement to several other methods e.g., etching and fine stamping for small to intermediate size series.
Ultra-High Precision Cutting
Piercing & Cut in One Set Up
10x Cutting Speed Compared to Wire-EDM
Cut parts up to 30 mm thick in almost any material
Cut Complex 3D Shapes Using 5-Axis Machining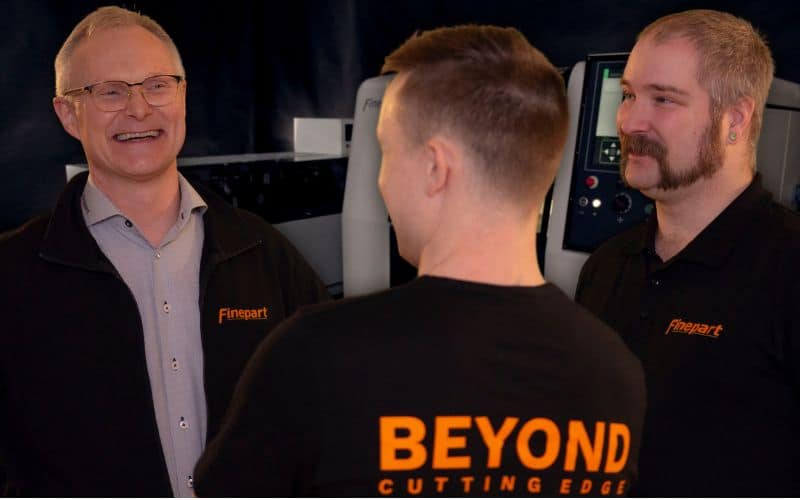 Simple to Use
Intuitive Human Machine Interface (HMI), no CNC skills are required.
Perfect Surface Finish
Cut surfaces are burr free and have an excellent surface finish.
Minimal Set Up Cost
Simple and specialized CAD/CAM programming, including cutting data for most materials.
Higher Profitability
Higher profitability with high cutting speed, precision, intricate cut capabilities, no need for second finish.
Finecut Waterjet Machinery Center Overview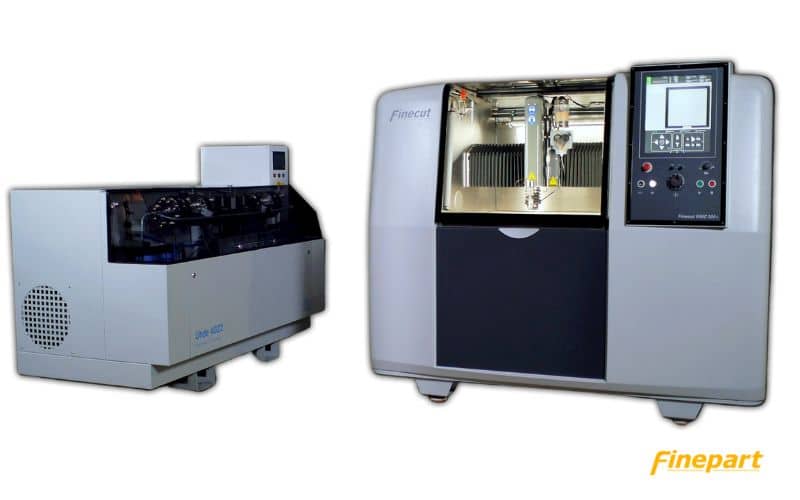 High Precision Motion System
Finecut Micro Waterjet Systems
All of our Finecut micro abrasive waterjet solutions are equipped with the latest waterjet technologies, software and features to ensure ultra precise cutting and cutting performance, Beyond Cutting Edge.
FINECUT WMC500II 5X, Type ABX
5 AXIS WATERJET MACHINE
High Speed Precision Cutting For Volume Manufacturing
Ideal for volume manufacturing purposes and cutting complex shapes, with cutting width down to 0.3 mm. 5-axis cutting with tool center point control and corner optimization by waterjet motion strategy.
The Finecut 5 axis waterjet technology type ABX, has the cutting-edge capabilities of combining increased cutting speed, ultra-high precision, and three-dimensional cutting, with taper elimination, into ONE single cutting-edge waterjet machining center.
Cutting envelope: 500 x 500 mm
Cutting angles up to ± 15º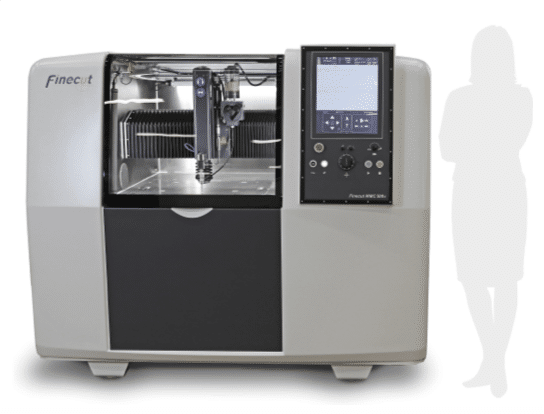 FINECUT WMC500II 5X, Type B4X
5 AXIS WATERJET MACHINES
High Speed Complex Precision Cutting For Prototyping
Ideal for prototyping or one-off parts and cutting highly complex shapes, with cutting width down to 0.2 mm. 5-axis cutting with tool center point control and corner optimization by waterjet motion strategy.
The Finecut 5 axis waterjet technology type B4X is combing a rotary table with a tilting cutting head and is capable of cutting high inclination angles.
Cutting envelope: 500 x 500 mm (3 axis mode)
Cutting envelope 5-axis: ca 370 x 200 mm between centers in A-axis fixture depending on fixturing
A-axis tilting: ±360º (Can be removed when not used)
B axis tilting: ±45º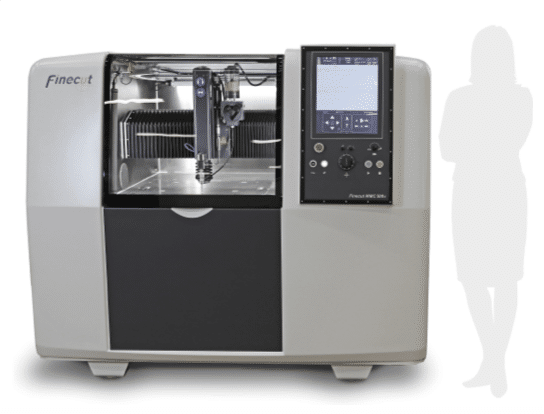 FINECUT WMC500II, 4X
4-AXIS WATERJET MACHINES
Precision with rotating work piece
Ultra high precision cutting with rotating work piece. The A-axis can be fitted with a work table plate on which any work piece can be placed and reoriented to provide access for cutting from different sides of the part.
This motion system setup allows the waterjet nozzle to cut along a contour, following the part's 3D curvature, moving all four axis in synchronous motion.
Cutting envelope: 500 mm x 500 mm (3-axis mode)
Work envelope rotating table: ca 370 x 200 mm between centers in A-axis fixture depending on fixturing
A-axis tilting: ±360º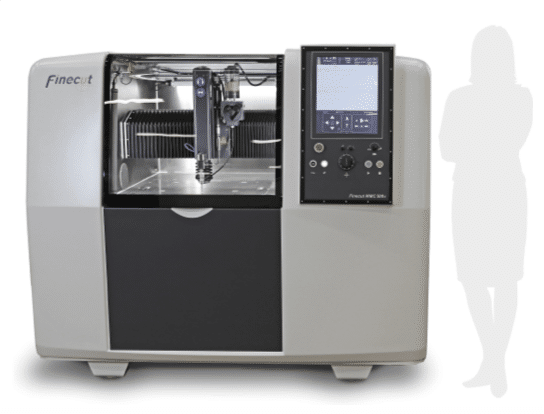 FINECUT WMC 500II, 3X
3-AXIS WATERJET CUTTING MACHINE
A versatile precision machine tool
The Finecut™ WMC 500 II 3-axis waterjet machines are a new generation of waterjet technology designed for ultimate precision cutting.
Flexible fixtures for different applications with a cutting width down to 0.2 mm. Highly dynamic and fully encapsulated design. Capable of cutting and following contours in X, Y and Z direction.
Cutting envelope: 500 mm x 500 mm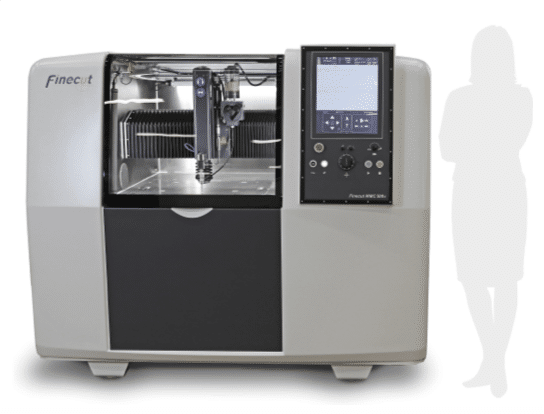 Find out how we can help you
Live Demo
Finecut Waterjet Cutting
For a personal demo and the opportunity to get general and technical answers from our engineers
Cutting Ability
Materials You Can Cut
Cut Virtually Any Material With Finecut Micro Abrasive Waterjet Technology
The Finecut micro abrasive waterjet cutting machine is an ultra-accurate non-thermal, high pressure, microcut waterjet system that allows you to cut virtually all materials. We cut your material no matter if it is very soft materials, ultra-hard materials, or anything in between.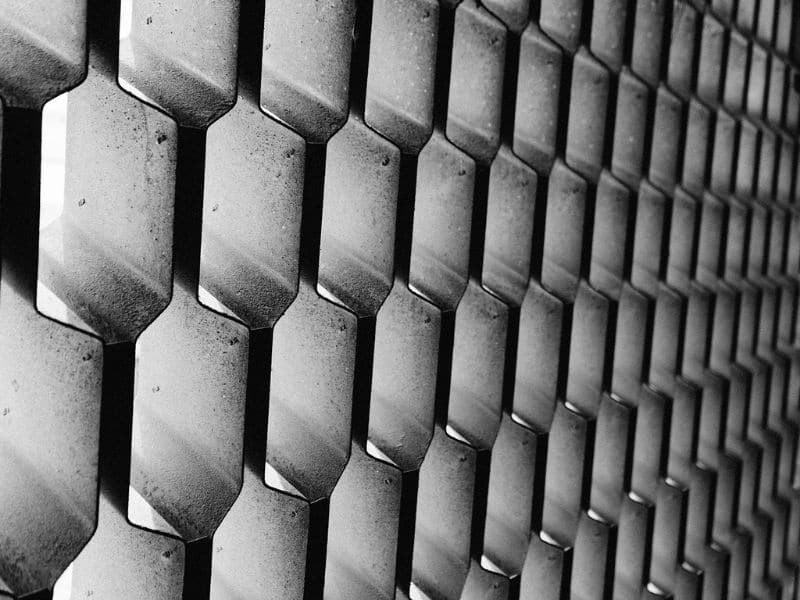 Cutting Edge Waterjet Software
CAD/CAM Waterjet Cutting Software
The IGEMS software is especially developed for waterjet cutting and is included in all Finecut waterjet cutting machines.
The CAD/CAM software easily creates a CNC file which can be transferred to the Finecut operator panel via WiFi or USB.
The different software options will allow you to:
Draw parts
Prepare parts for cutting
Adjust cutting quality
Adjust cutting parameters
Calculate cutting time
Estimate cost of parts
Get proposal for nesting, and more.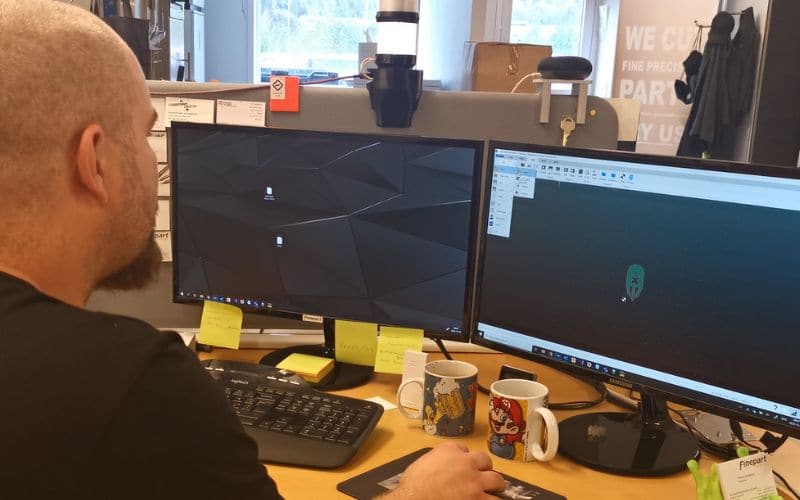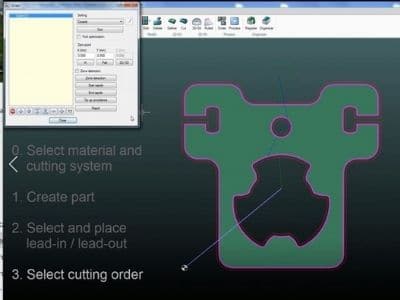 Cutting Edge Waterjet Operator interface
Waterjet Operator System
The Finecut operator panel is a very easy and intuitive Human Machine Interface (HMI) that requires no CNC skills.
Developed By Finepart
Easy to understand and operate
Intuitive interface
No CNC operator skills required
Integrated support for options
Maintenance support, schedule & timers
Software Upgrades Included
ENHANCE YOUR WATERJET Cutting MACHINEs
Options for Increased Efficiency
Retrofittable Hardware Upgrades. All new and existing options are retrofittable to all waterjet cutters in the Finecut WMC500II series, to increase the efficiency, precision, and capabilities of your Finecut waterjet. Talk to us if you want to upgrade your machine!
High frequency spindle unit for drilling and milling
The spindle is ideal for efficiently piercing through carbon fiber, reinforced plastic materials, aluminum and layered materials, or composite material, that may risk delaminating.
Excellent for piercing in difficult materials
End mill up to diameter 4 mm
Spindle speed 5 000 – 60 000 rpm
200 W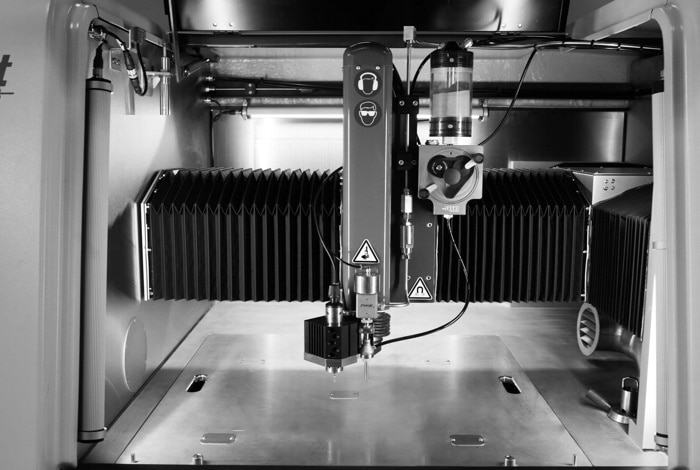 Finepart touch probe including software module
The Finepart Touch Probe utilizes the Renishaw LP2DD probe and is useful when you need to position more complex parts for additional machining, and besides finding edges, also require the ability of 3D measurements.
Accurately set your zero-point
Locate a hole or boss
Find an angle on a workpiece
Locate an edge
Align workpiece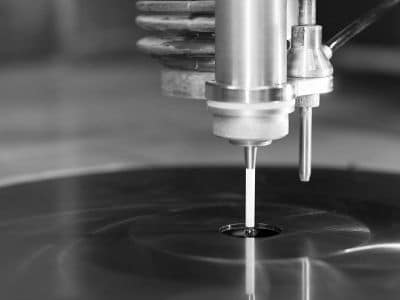 Work holder – Wave grid
Wave grid holder is a multi-purpose work table solution that helps place material for cutting, quickly. The wave grid uses exchangeable thin deep wave formed slats that support the work piece.
Quick set-up for cutting parts
Great part support when cutting
Exchangeable slats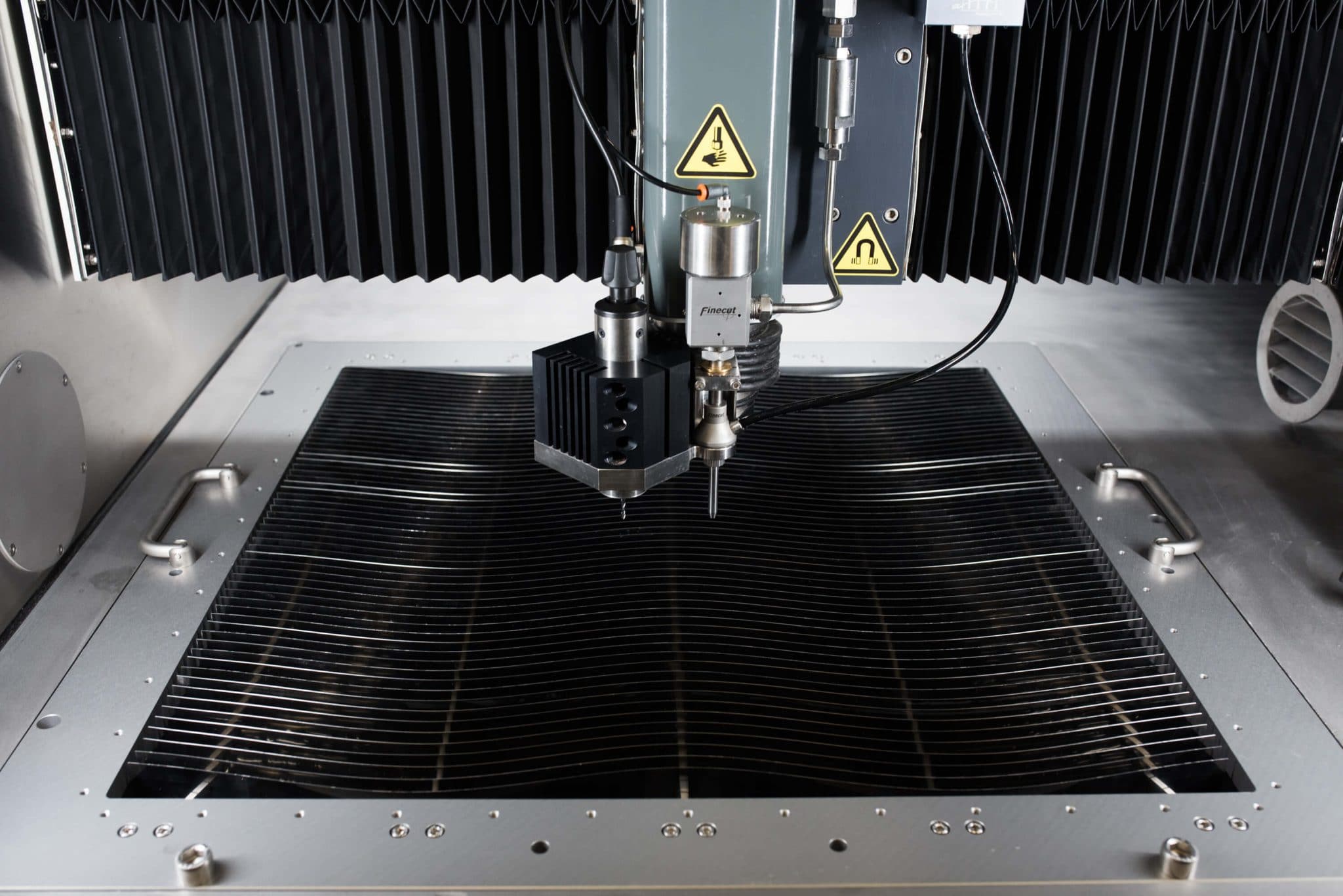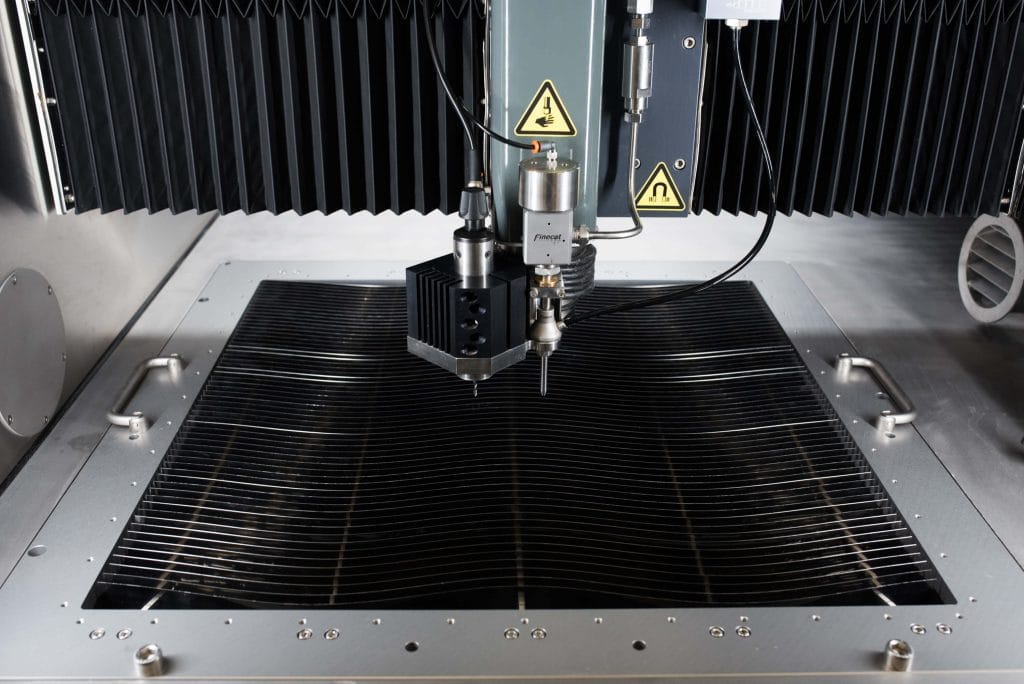 5-axis Manipulator for higher productivity
The added 2-axis manipulator kit includes high-pressure lines with swivels and provides synchronous A and B axis movement that can tilt the waterjet stream in any direction.
Cutting width down to 0.2 mm
5-axis cutting with tool center point control
Boosts productivity (+150%) with taper angle control
Corner optimization by jet motion strategy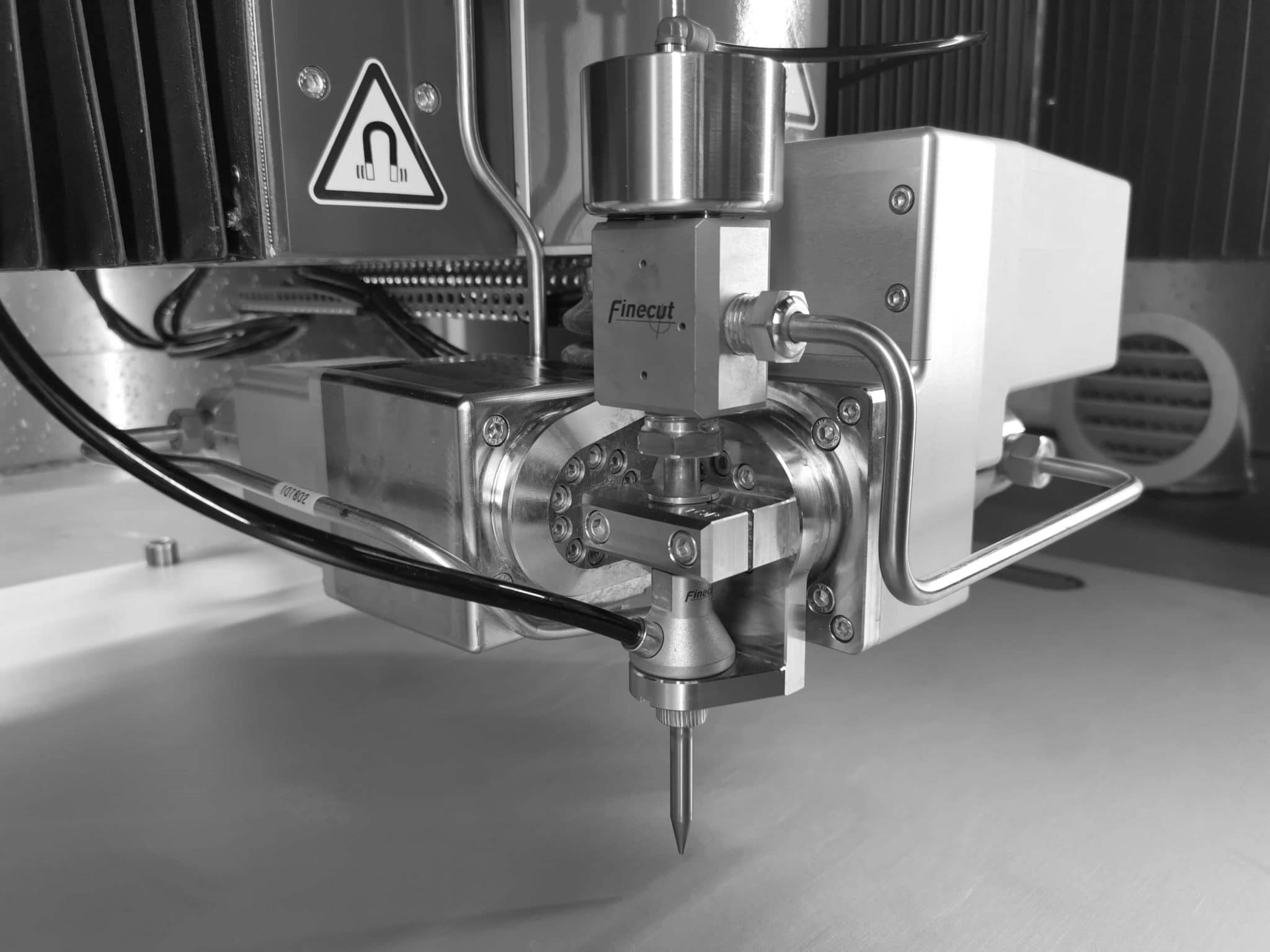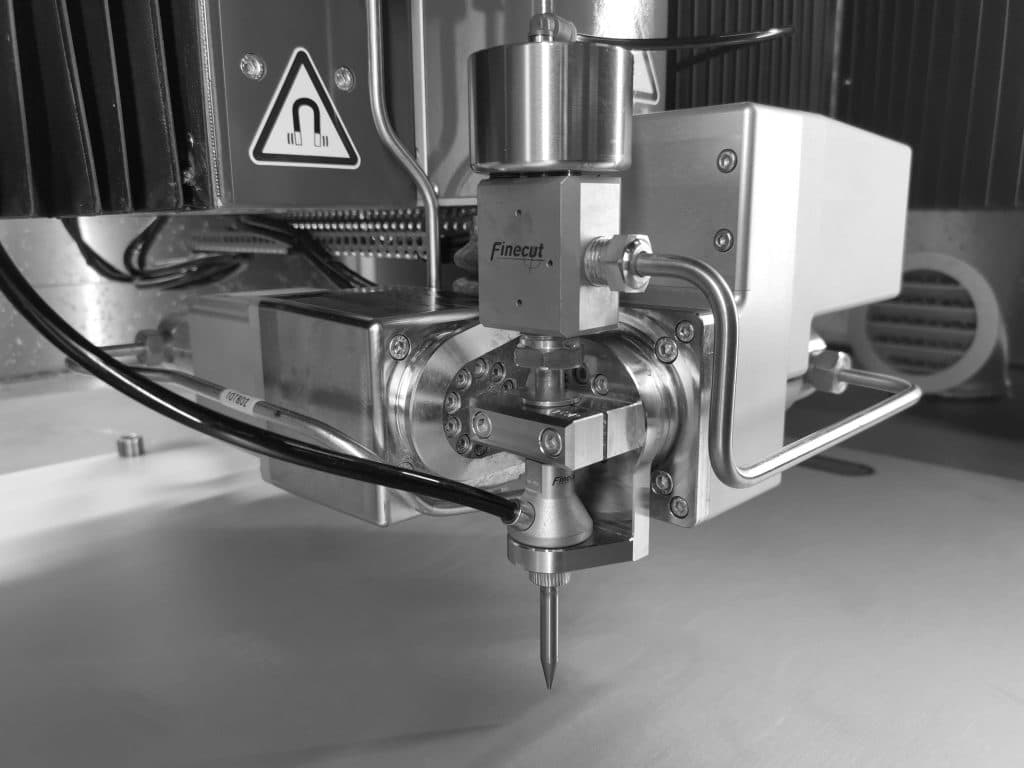 5-Axis Manipulator for advanced single part production
The 5-axis type B4X facilitates is a combination of a B axis tilting the waterjet cutting head up to ± 45º degrees and a table-mounted A-axis that manipulates the work piece.
Cutting width down to 0.2 mm
Perfect for prototyping
5-axis cutting with TCP control
3-dimensional (3D) cutting with high inclination angles and complex shapes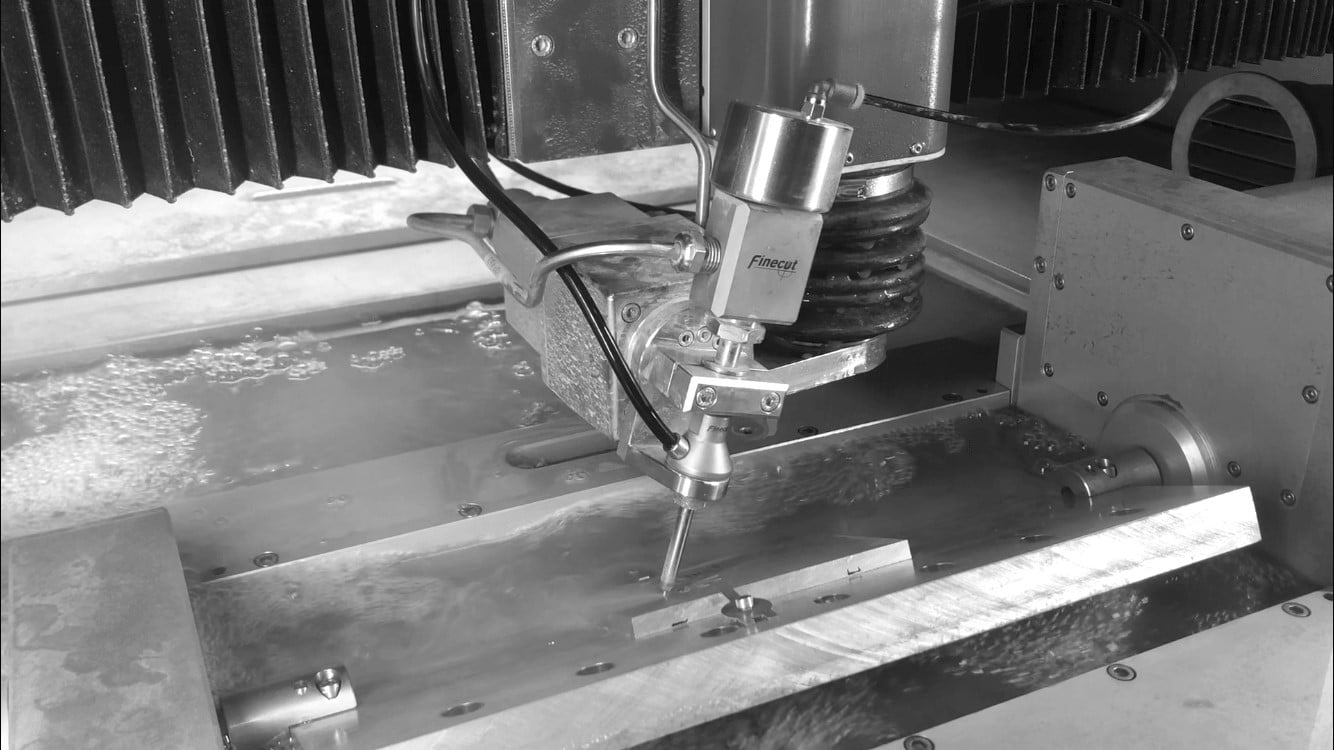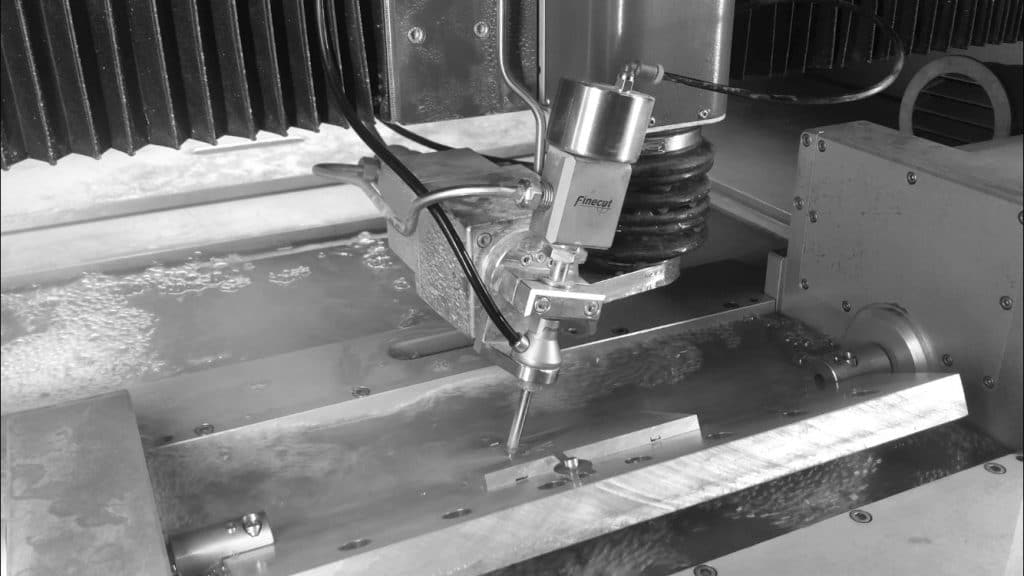 High pressure water pump
The water pressure intensifier pump is a high pressure water pump technology, with durability that provides continuous top performance.
Efficient High Pressure Pump 4.000 bar / 22kW
Can Be placed remotely from the Finecut waterjet
Comfortable operation via touch panel on Finecut waterjet system
Optional remote diagnostics / safety due to remote access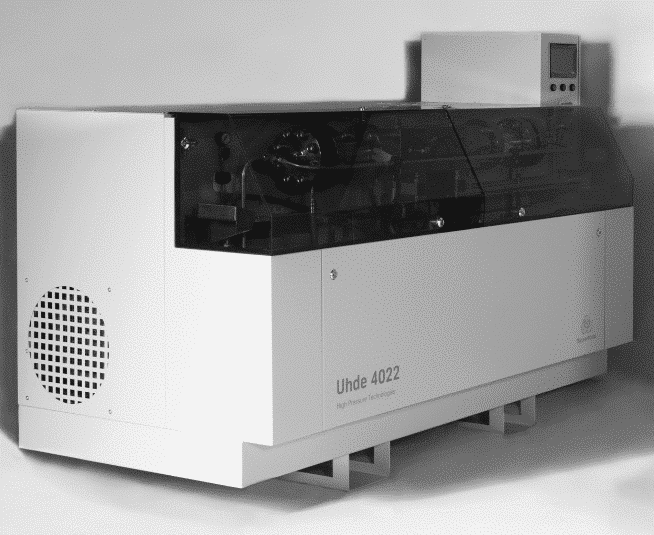 Service & Support
Finepart is fully dedicated micro abrasive waterjet cutting technology and have 35 years of experience in research, design, and manufacturing of waterjet machine technology. With our deep expertise staff of engineers and technicians you are guaranteed full support and training throughout the lifetime of your Finecut abrasive waterjet.
Finepart Academy
Access to courses, operator certification, service technician training.
Machine Training
On-site training during machine start up, follow-up training for operators.
Service & Support
Service, support and maintenance agreement for quick and reliable on-site, and remote service.
Software Upgrades
Software is upgraded during on-site visits for support or maintenance.
Find out how we can help you
Customer stories
Peter Boneham
Boneham & Turner
,
We conducted trials, prior to purchase, with some exceptional results. One part that was taking us 1,5 hrs, takes us just 8 min. to produce on a Finecut machine. It's a game changer.
Jan-Åke Wiman
University of Gothenburg
,
The Finecut equipment has proven to produce narrow cuts with extreme precision.
Fredrik Claesson
Gaston Components AB
,
The Finecut process is great when it comes to high precision, advanced material, and non-thermal effect.
Magnus Abelsson
Elitkomposit AB
,
The Finecut machine has for several years demonstrated its unique precision when it comes to process carbon fiber, which is our area of expertise.
Rikard Bergsten
Tre Ess Innovation AB
,
For me, as an inventor, it is important to get parts with high precision and, in some cases, advanced materials to verify my prototypes / products.
Mattias Håkansson
LBY Tech AB
,
The Finecut is a great compliment to our existing W-EDM and widen our offering scope.
Börje Andermård
Brogren Industries AB
,
The Finecut equipment gave us advantages of minimal impact on material properties and a very high precision.
Laurant Ponsard
Hager Electro SAS
,
The Finecut system from Finepart has for the past 10 years supported us producing quick prototypes for our NPI process
Learn About Micro Waterjet