Beyond cutting edge
Your world-leading provider of non-thermal precision cutting.
Enjoy Swedish ultra-accuracy for virtually all materials.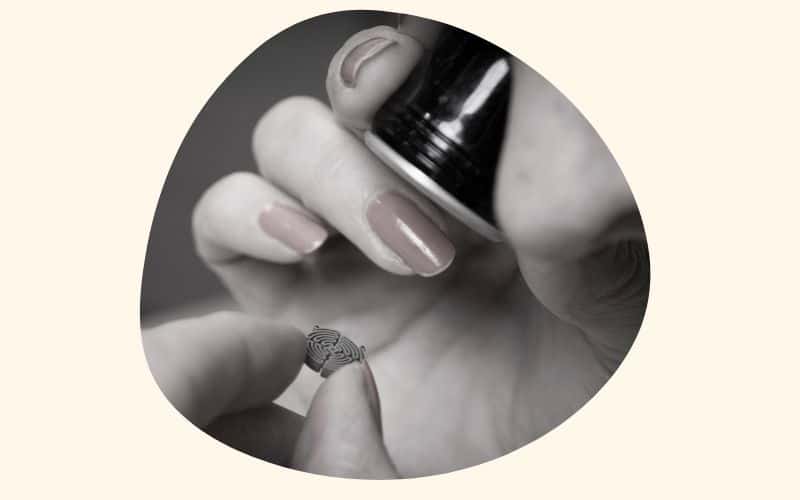 Probably The World's Most Accurate Micro Abrasive Waterjet
In Finepart Sweden we love the waterjet technology and micro abrasive waterjet in specific. We have a deep knowledge that we are eager to share. Learn more about the benefits of the technology, what is micro abrasive waterjet and a lot more.
Watch Finecut Precision Cutting
The movie to the right shows precision cutting of Titanium in a Finecut machine.  
Non-thermal cutting of Advanced Material
With Finepart's non-thermal precision cutting technology you avoid heat-affected-zones, material distortion, burrs, and micro cracks. Our technology can cut in all kind of materials including composites, ceramics, combined material and all kind of metal alloys.
The Finecut machine is designed for precision and has a positioning accuracy of ±2.5 micron and can cut part with ±10 micron tolerance. Parts can be cut with segments width down to 0.1 mm.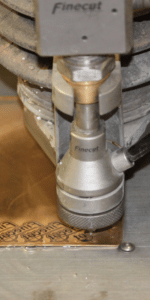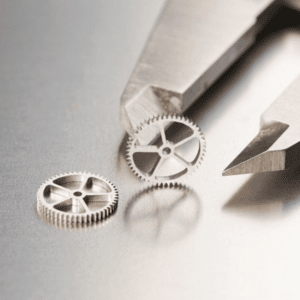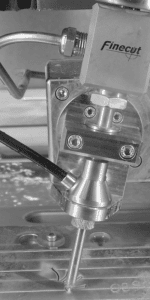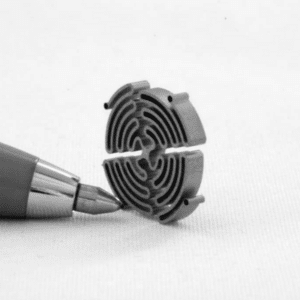 Download Any Of Our Product Brochures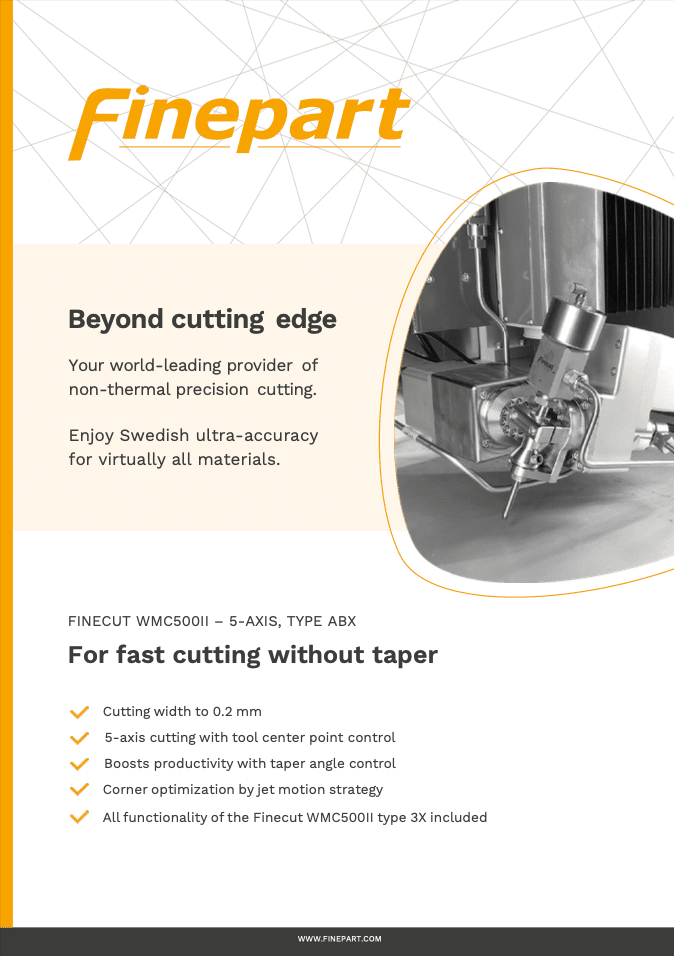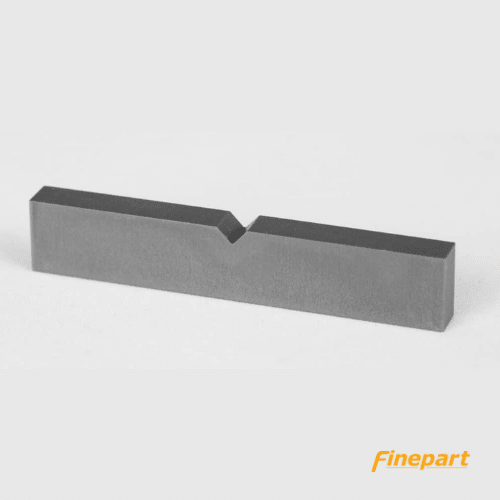 Ultimate Surface Quality
Whether it's for medical components that require smooth surfaces or parts under stress that must be free from microcracks, Finepart micro abrasive waterjets produce the ultimate results.
With a Finepart machine you avoid burrs, oxides, or heavy slag as a result of the cutting. Normally, surface roughness values below 1.6 µm (Ra) can be accomplished, and for hard material roughness values below 0.8 µm (Ra) are often obtainable.
Ideal for fine features
The small jet diameters has the ability to work omnidirectionally and allows for fine features to be cut in intricate patterns with minimum radii down to ca 0.1 mm. Part sizes we cut vary greatly from sub-millimeter size to large 50 kg parts. The part complexity handled can include both complex geometries having down to 0.1 mm wide sections in flat stock, and complex shell structures that require live fixtures that can re-orient the workpiece for accessibility and even move it synchronized to the jet motion.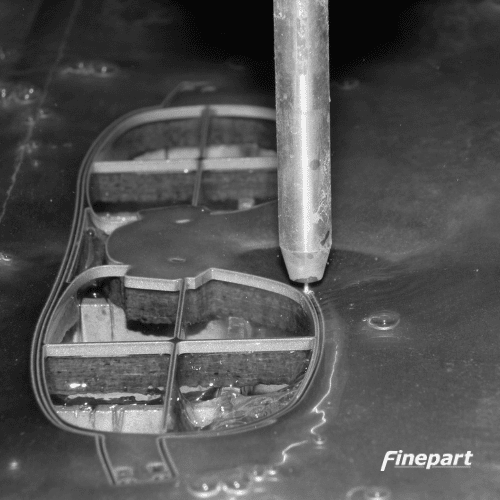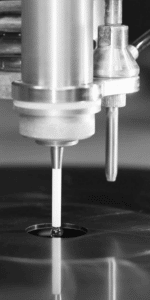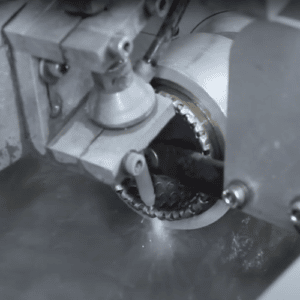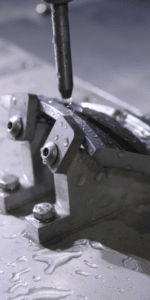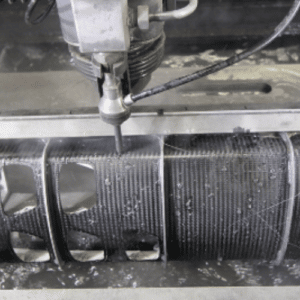 Ultimate Flexibility & Versatility
The Finecut machine can be equipped with 3-axis, 4-axis or 5-axis congfigurations. This allows both 2D and 3D complex cuts with highest accuracy. Set up time is reduced to a minimum. Switch from machining flat 2 dimensional parts in one type of material to complex 3D parts in another material, in minutes, without changing tooling.
The Finecut machine can be equipped with several options:
live fixtures for advanced cutting
video measuring system for positioning and alignment
high speed spindle for hybrid machining etc.
The Finecut machine with options is a versatile machine tool capable of complex cuts including chamfers and bevels, eliminating the secondary operations required to finish a part.
Customized To Your Performance & Cutting Needs
Our customer all have unique cutting and precision requirements, and our engineers can help you configure the right machine set up you need.
It starts with test cutting your most challenging parts on Finepart machines. Once you approve the test cuts, and we understand your production targets, we will know the exact specification and set up for your Finecut machine.
We provide you with the on-site and online set up in your facilities, training of your machine operators, and provide the ongoing support for as long as is needed.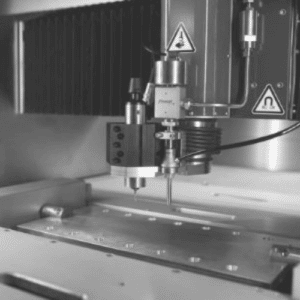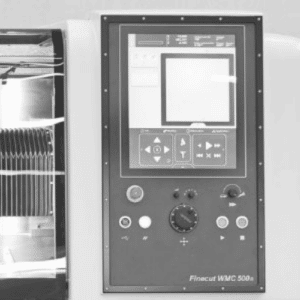 Contact us to discuss your unique application!
…and get a free test cut of one of your most challenging parts?
Customer stories
Peter Boneham
Boneham & Turner
,
We conducted trials, prior to purchase, with some exceptional results. One part that was taking us 1,5 hrs, takes us just 8 min. to produce on a Finecut machine. It's a game changer.
Jan-Åke Wiman
University of Gothenburg
,
The Finecut equipment has proven to produce narrow cuts with extreme precision.
Fredrik Claesson
Gaston Components AB
,
The Finecut process is great when it comes to high precision, advanced material, and non-thermal effect.
Magnus Abelsson
Elitkomposit AB
,
The Finecut machine has for several years demonstrated its unique precision when it comes to process carbon fiber, which is our area of expertise.
Rikard Bergsten
Tre Ess Innovation AB
,
For me, as an inventor, it is important to get parts with high precision and, in some cases, advanced materials to verify my prototypes / products.
Mattias Håkansson
LBY Tech AB
,
The Finecut is a great compliment to our existing W-EDM and widen our offering scope.
Börje Andermård
Brogren Industries AB
,
The Finecut equipment gave us advantages of minimal impact on material properties and a very high precision.
Laurant Ponsard
Hager Electro SAS
,
The Finecut system from Finepart has for the past 10 years supported us producing quick prototypes for our NPI process