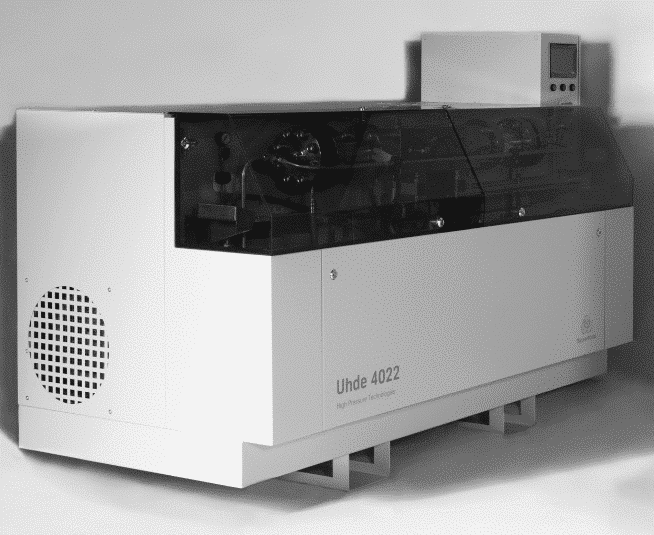 OPTION NO. 6005703
Uhde 4022
Reliable high pressure intensifiers
Excellent pressure profile to produce smooth surfaces
Comfortable operation via touch panel
Remote diagnostics / safety due to remote access
Maintenance-friendly design
Water with muscle
The high-pressure pump is an important part of the Finecut waterjet machines. Compressed water provides cutting power to the Finecut cutting head. To obtain a high quality of the cut the pump must produce a smooth pressure profile with a minimum of pressure fluctuation.
We have carefully evaluated the market and selected Uhde High Pressure Technologies, a part of the Thyssen Krupp Group, to be our preferred supplier. Their Uhde 4022 intensifier is a high-end high-pressure pump, with a durability that provides continuous top performance. The new Uhde generation is backed by decades of experience in high-pressure technology and pump design. Uhde have made the pump even more robust in core components, to even further increase lifetime. Moreover, assembly and operation have become even simpler.
You will perform better with this pump with no doubt.
Uhde 4022
Standard, integrated (oil-water optional)
Available option for check valves and the pressure relief valve
Remote maintenance access
See Finecut WMC 500II HMI