Waterjet cutting aluminum – Aluminum is a very common material for all kinds of products, both for applications in many manufacturing industries like aerospace, automotive, and in consumer goods.
Aluminum's unique properties, like a high strength-to-weight ratio, mean that aluminum is often used for structural and architectural applications, aerospace components, automotive parts, and much more.
You probably have aluminum near you right now, especially since it is an important material for building electronic device parts like mobile phones and laptops. This makes aluminum production and processing a very big industry, meaning there are a lot of options when it comes to cutting aluminum parts.
But not all cutting and machining methods are equal. Cold cutting with micro abrasive waterjet cutting offers exceptional cutting speeds and high precision for fine details without imparting thermal stresses onto the aluminum. This article will show you why micro waterjet is the best process for cutting aluminum sheets, plates, and molded parts, both in terms of finished part quality and production cost.
7 Benefits of Aluminum Waterjet Cutting Process
In the following we have provided a brief explanation on why Waterjet Cutting Aluminum is the ideal cutting process, and provides the highest level of production capabilities, precision, cutting speed, and surface quality in one single pass.
Examples of Micro Abrasive Waterjet Cutting Aluminum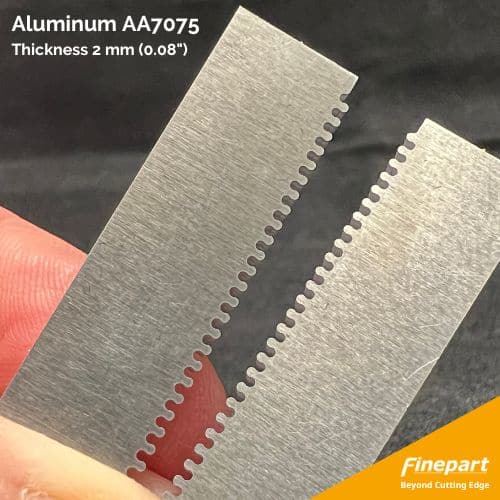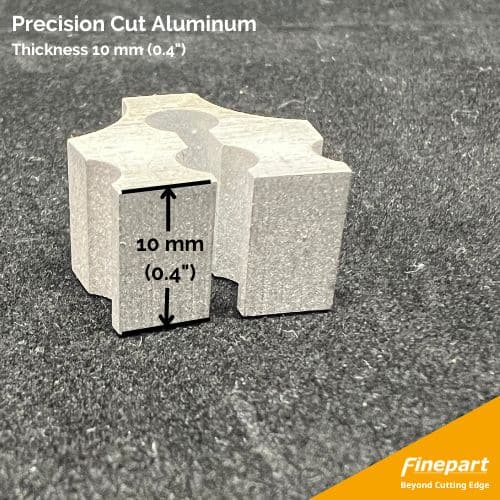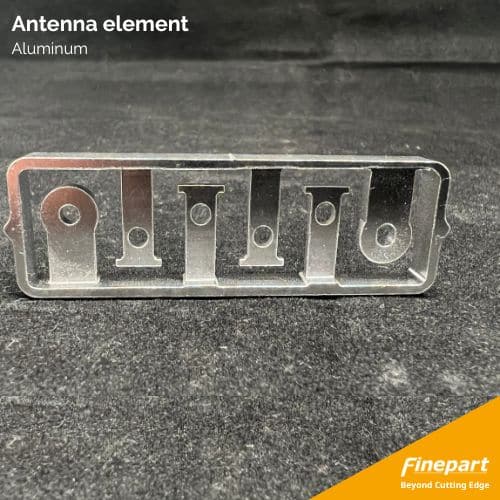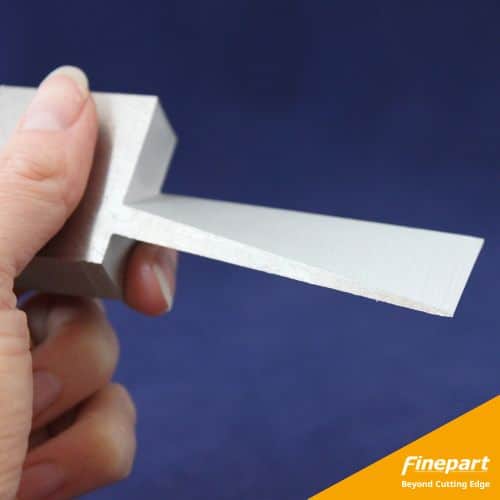 Types of Aluminum Waterjet Can Cut
There are no limitations to what type of aluminum you can cut using a micro abrasive waterjet cutting process or conventional waterjet. You can cut any aluminum plate grade or cast aluminum product using a micro abrasive waterjet.
Applications of Waterjet Cutting Aluminum in the Manufacturing Industry
Waterjet is widely used for aluminum cutting applications across many industries, both in large, medium, and small-sized parts, with requirements of various needs for complex cutting, and precision cutting with tight tolerances.
Because of its high durability, light weight, and ability to retain strength despite dents and scratches, aluminum remains a popular material for many use cases, including:
Consumer electronics and appliances, like laptops, phones, refrigerators, and laundry machines.
Aerospace components for missiles, aircraft, and space-bound equipment
Automotive parts, like wheels, vehicle bodies, transmissions, and engine components
Construction and architectural elements, like siding, roofing, railings, and window frames
Furniture, like table frames, chairs, and desks.
Art and decor pieces
Consumer products, like kitchen utensils and cookware
Choosing the Best Micro Waterjet For Your Needs
To find out which micro waterjet cutter will fit your requirements best, you should make your decision based on the following factors:
Water pressure
Water pressure is a critical factor for determining a waterjet cutter's capabilities. Being able to achieve higher water pressures and maintain a smooth pressure profile translates into more penetrative ability, for processing thicker materials, and faster cutting speeds, which reduces production costs and increases productivity.
The Finepart intensifier pump will provide you with ample water pressure to cut any material thickness up to 30 mm. (1.18″) and beyond.
Waterjet options & upgrades
Finepart offers an assortment of options for upgrading your Finepart micro abrasive waterjet machines, from a high-frequency spindle add-on for drilling and milling to 5-axis manipulators for added cutting versatility.
You can add any of these upgrades to our waterjet cutting machines so that you can customize the cutting equipment to meet your unique needs and specifications.
Waterjet software
All Finepart micro abrasive waterjet machines come with a CAD/CAM software that you can operate on a computer and a complete computerized waterjet operating system and operating panel. The Human Machine Interface software is highly intuitive, without the need for CNC waterjet coding experience, and helps you to cut high quality parts without the need for manual intervention.
Cutting axes
Your cutting needs will determine the versatility you need from your waterjet machine. Finepart offers 3 axis, 4 axis, and 5-axis micro abrasive waterjet machines to meet the needs of all our customers, whether you need to cut simple 2D shapes or complex 3D parts. There is always a Finepart machine that fits your specific needs.
When considering all critical factors, Finepart micro abrasive waterjet machines provide you with cutting-edge solutions to satisfy any of your micro cutting needs.
Finepart micro abrasive waterjet machines have all the features you need for 2D and 3D cutting of parts in materials thinner than 30 mm (1.18″) plus, you can add any of our options to upgrade any waterjet machine to achieve top specifications, which means you can easily find a Finepart machine to fit your budget and production needs.
BEYOND CUTTING EDGE
Finecut Micro Waterjet Series
3 axis, 4 axis, and 5 axis micro abrasive waterjet series, the perfect choice for cutting aluminium and any other material.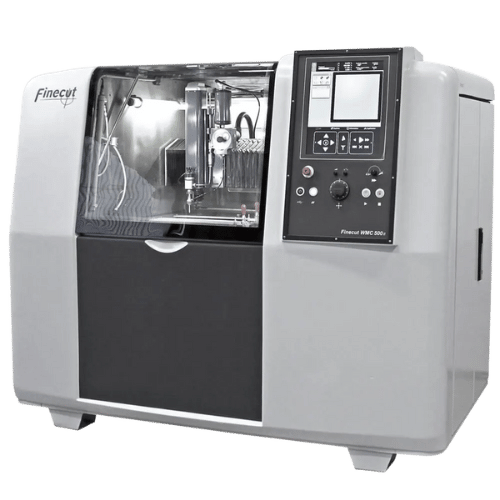 Frequently Asked Questions